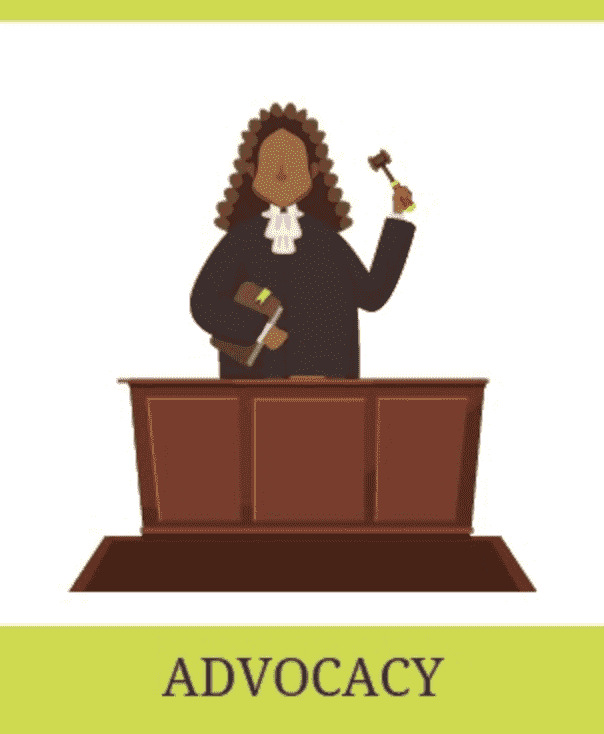 Advocacy is one of the SQE2 oral skills assessed in the Solicitors Qualifying Examination, the new route to qualifying as a solicitor in England and Wales. In the SQE2 advocacy exam, candidates will be given a case study (which normally consists of a "bundle" of documents), on which they must advocate for a client by presenting their case to a judge. Candidates will have 45 minutes to review the case and prepare, followed by 15 minutes to make their submission.
This exam is closely based on the QLTS OSCE advocacy/oral presentation assessment. We have been helping foreign-qualified solicitors pass the OSCE since early 2018 and have accumulated extensive knowledge of the format of the advocacy assessment and what assessors look for in candidates' performance.
SQE Advocacy
There are two legal contexts in which advocacy can take place:
Criminal advocacy in the case of a criminal offence
Civil advocacy in the case of a dispute relating to (mainly) the contract or tort areas of substantive law

In the SQE2 advocacy exam, candidates will be tested on both the criminal litigation and dispute resolution practice areas (on different days). There are a range of basic applications that take place in the lower courts that may be covered in this assessment. It is unlikely that you would be tested on a serious criminal conduct trial in a Crown Court setting, as this would need more than the 15 minutes allocated for the assessment.
SQE2 Oral Skills: Advocacy
The advocacy assessment is similar to the SQE client interview assessment, in that it is a practical oral examination in which you must play the role of a solicitor in a simulated scenario. However, there are some important differences.
In the SQE 2 advocacy assessment, there is no written element. You don't need to conduct an in-depth legal analysis of the issue at hand as you would for the attendance note or the case and matter analysis and maybe some other SQE2 written assessments: legal research, legal writing, and legal drafting.
Here, your time is very limited and it can almost feel like a race to cover everything within 15 minutes.
You should have sufficient legal knowledge to be able to quickly navigate the bundle and draw out the pertinent information, to hone in on the key arguments, and to know which applications you need to deliver and the respective legal tests that must be applied to address the matter at hand.
Furthermore, the scenario is a bit more removed from what a real-life situation would look like. While the client interview takes place between the solicitor and the client, as it would in real life, only the judge and the SQE candidate are present in the room during the advocacy assessment. In actual practice, the defendant and opposing counsel would also often be present. Candidates are expected to assume that they are there, and consider and pre-emptively address any weaknesses in the case or any other arguments that might be made by the opponents in a real-life setting.
The most important difference from the client interview is the way in which you conduct yourself during the advocacy assessment. While you need to use "plain English" when communicating with a client in an interview, the language in a court setting when performing advocacy is much more technical and formal. You should familiarise yourself with the court etiquette in England and Wales, where a solicitor's conduct is quite reserved and respectful and specific jargon is used throughout the process. This is also a much more "performative" assessment, where you will be doing most of the speaking and delivering an argument; the judge may interrupt only intermittently to ask a clarifying question. You should therefore be quite comfortable with public speaking in a persuasive manner.
SQE2 Marking Criteria: Advocacy
The role of the judge in this SQE2 oral exam is played by a qualified solicitor, who assesses the candidate on the following criteria:
Skills:
Use appropriate language and behaviour
Adopt a clear and logical structure
Present a persuasive argument
Interact with/engage the court appropriately
Include all key relevant facts
Application of law:
Apply the law correctly to the client's situation
Apply the law comprehensively to the client's situation, including consideration of any potential ethical and professional conduct issues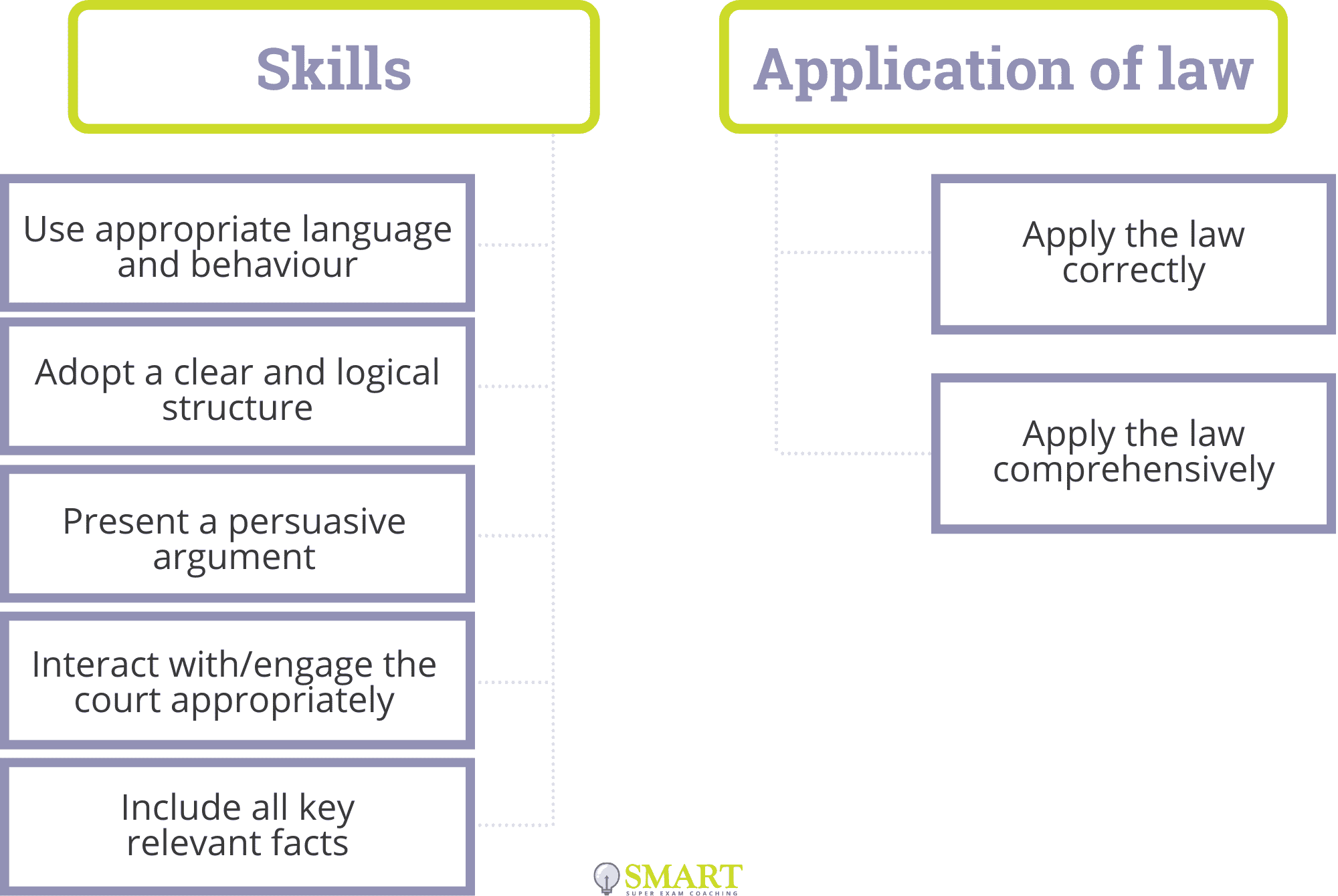 Preparing for SQE Advocacy
Passing the SQE1 and SQE2 exams will be no easy feat. Advocacy is one of the most difficult SQE legal skills assessments, and it is important for aspiring solicitors to prepare fully. While a law degree is no longer a requirement to become a newly qualified solicitor, candidates must have already passed the SQE1 assessment, which tests functioning legal knowledge, before proceeding to SQE2. It is important to continue revising criminal and civil litigation materials to ensure that you can fully harness your legal knowledge to apply the facts appropriately during your advocacy submission.
There are several preparation courses currently being developed to help candidates pass the challenging SQE assessments. As persuasive public speaking is such an important element of the SQE 2 advocacy assessment, the best way for aspiring solicitors to build up this skill is practicing as much as possible through SQE mock stations.
Our Smart training service offers you the best opportunity to do just that by conducting our simulated advocacy mocks.
Smart Mock Station
Our expertise in this SQE2 oral exam has been built up through our years of experience helping candidates pass the QLTS OSCE. We have found that SQE mock sessions and real-life simulations are the best way to prepare, where candidates can truly apply their legal knowledge to better root it in long-term memory as well as improve their advocacy skills. We provide mock advocacy stations which are conducted (through a video call) under the same conditions as the actual exam.
In our SQE mock simulations, the role of the judge is played by a tutor solicitor who is highly skilled in criminal or civil litigation, and who then provides thorough, personalised feedback. During our SQE2 one-to-one mock exams we can help you to learn how to navigate a case bundle, structure your delivery, and correctly follow the procedural rules for submissions in the courts of England and Wales. We also offer lecture modules on how to perform advocacy, including video examples, as well as a summary of the key legal tests to memorise.
Our Superexam platform is modular and fully flexible to suit your unique learning needs, availability, and budget. You can customise your own SQE preparation through any combination of SQE mock stations, lectures, live stream simulations, and training materials.
You can either buy individual mock sessions on a "pay as you go" basis with prices ranging from £70-120, or make a bulk purchase and avail of price discounts.
We have built this training service with your needs in mind to help you achieve your goal of joining the register of solicitors. We are happy to advise on certain module combinations based on your background, so feel free to contact us and take the first step towards success.