The Solicitors Qualifying Examination became the new standard route to qualifying as a solicitor of England and Wales in September 2021. Through the SQE1 and SQE2 assessments along with qualifying work experience, solicitors will be thoroughly evaluated on their legal knowledge and practical skills, with the marking criteria for each assessment heavily based on the SRA Competence Statement as outlined below.
These skills form the backbone of practice as a qualified solicitor. Whether you are following the old route to qualification through a traditional degree or law conversion course, or planning to follow the SQE route, it is essential that you master these skills. The best way to do this is through an effective preparation course – you can find details of our unique SQE2 course offering below.
The Competence Statement also forms the basis for the non-legal criteria which are marked for every SQE2 skills assessment (client interview and attendance note, advocacy, legal writing, legal drafting, legal research, and case and matter analysis). The legal criteria are essentially the same for all, i.e. that the law is applied correctly and comprehensively to the client's situation. However, the non-legal criteria (as outlined in the table below) vary per assessment.
The SRA has worked hard to ensure that the SQE verifies the overall competence of candidates by drawing upon the Competence Statement to define the non-legal marking criteria for each assessment (e.g. effective listening and questioning as marked in the client interview relates directly to the technical legal practice competence requirements, and so on).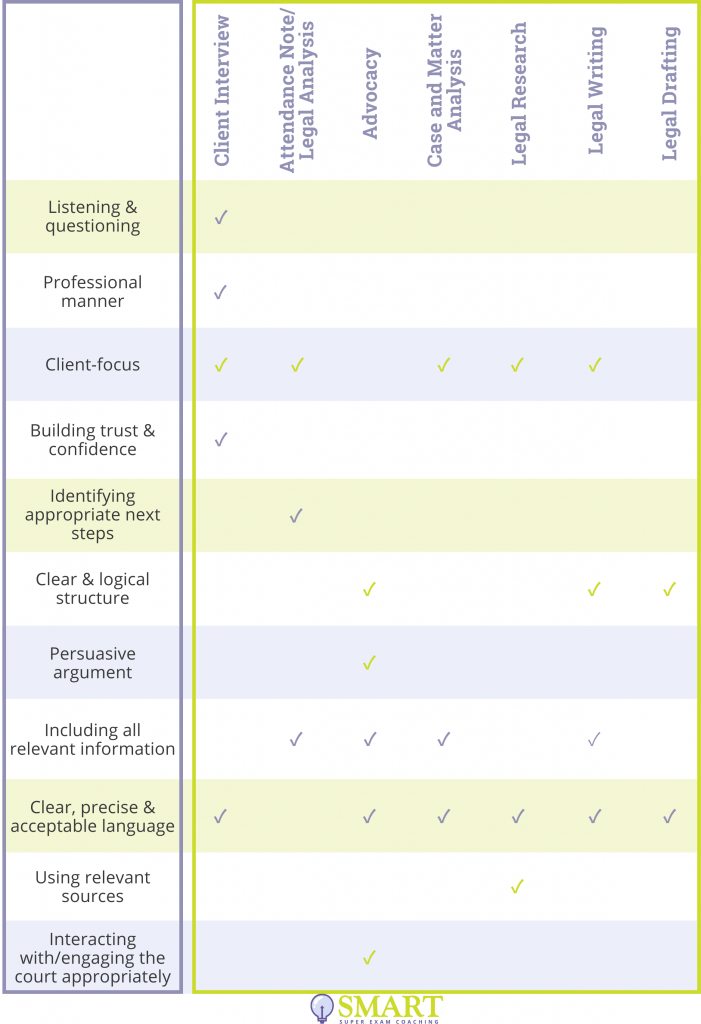 SRA Competence Statement
The Solicitors Regulation Authority has set out clear guidelines for the standard competencies it requires for all qualified solicitors in England and Wales. This "competence statement" comprises three parts:
Statement of solicitor competence
Threshold standard
Statement of legal knowledge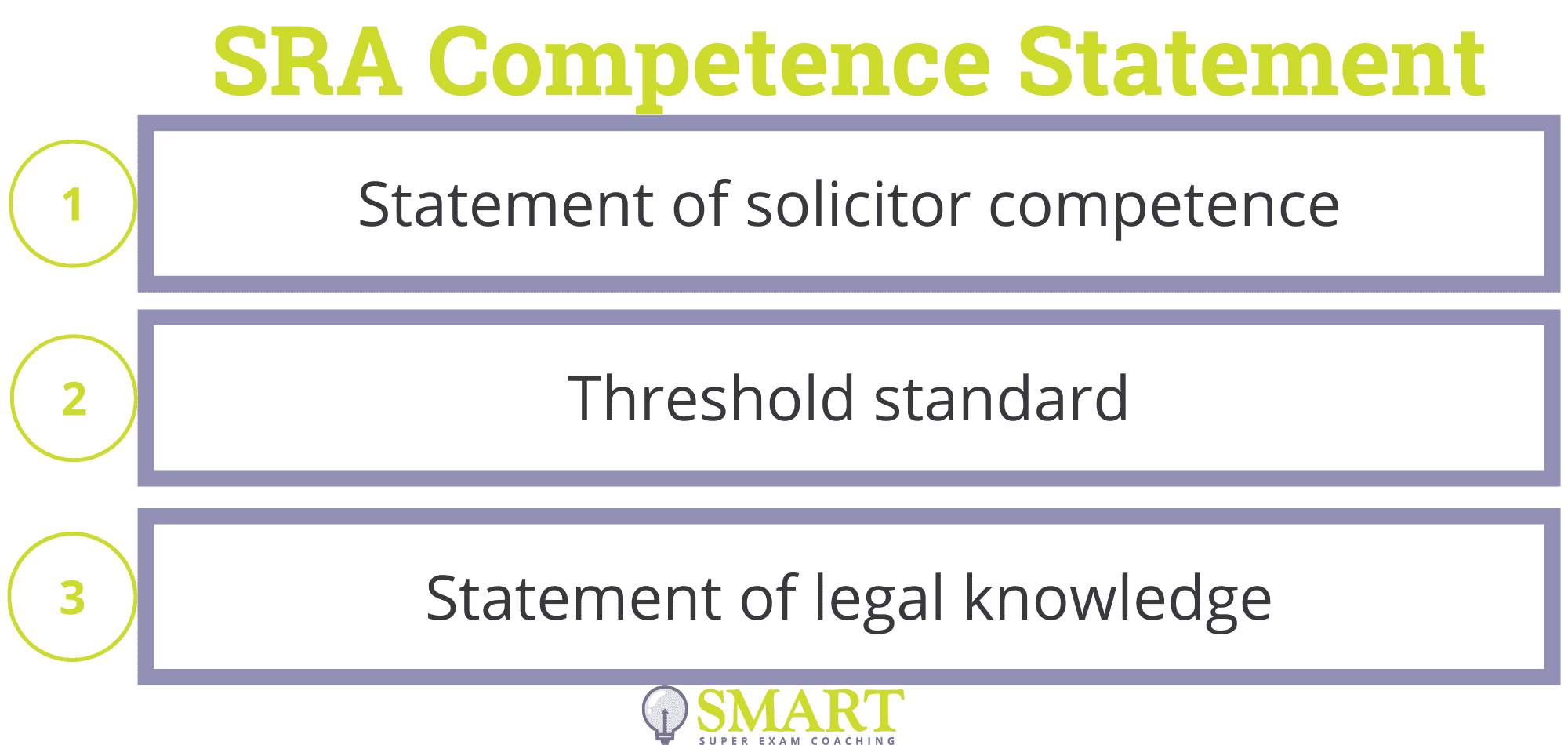 Statement of Solicitor Competence
This key statement outlines the skills and qualities that a solicitor must have in order to be able to perform the duties and tasks of his/her role to the expected standard. The SRA has based the specific marking criteria for the SQE2 skills assessments on these competencies. We have summarised the competence requirements below, please refer to the SRA website for full details.
It is also important to remember that these skills are not just evaluated in SQE2 – these skills are applied in everyday life as a solicitor, and thus also form a crucial element of the Qualifying Work Experience (QWE) step in the qualification process.
For any/every QWE role undertaken by an SQE candidate, a qualified solicitor must sign off on a statement verifying that the candidate had the opportunity to exercise and demonstrate these competencies.
Practising solicitors must also declare their continuing competence on an annual basis to verify and ensure that they continue to deliver a proper standard of service to their clients. These skills are therefore crucial to learn, understand, and truly incorporate into practice to both pass the SQE assessments and perform well as a qualified solicitor.
A. Ethics, professionalism and judgement
The SRA holds solicitors of England Wales to the highest ethical and professional standards as upholders of the law. Under this competency requirement, solicitors are expected to:
Act with integrity and honesty, abide by all relevant regulations and rules of professional conduct, and maintain high ethical standards
Maintain the level of legal knowledge required in the context of their role by focusing on continuous learning and monitoring developments in relevant laws, policies and practices
Understand the limits of their own abilities and seek further support or guidance where necessary
Have sufficient detailed legal knowledge in their area of practice in order to identify and apply the relevant legal principles to real-life situations
Have strong critical thinking and analysis skills to be able to assess all available information, identify any inconsistencies, and make effective judgements.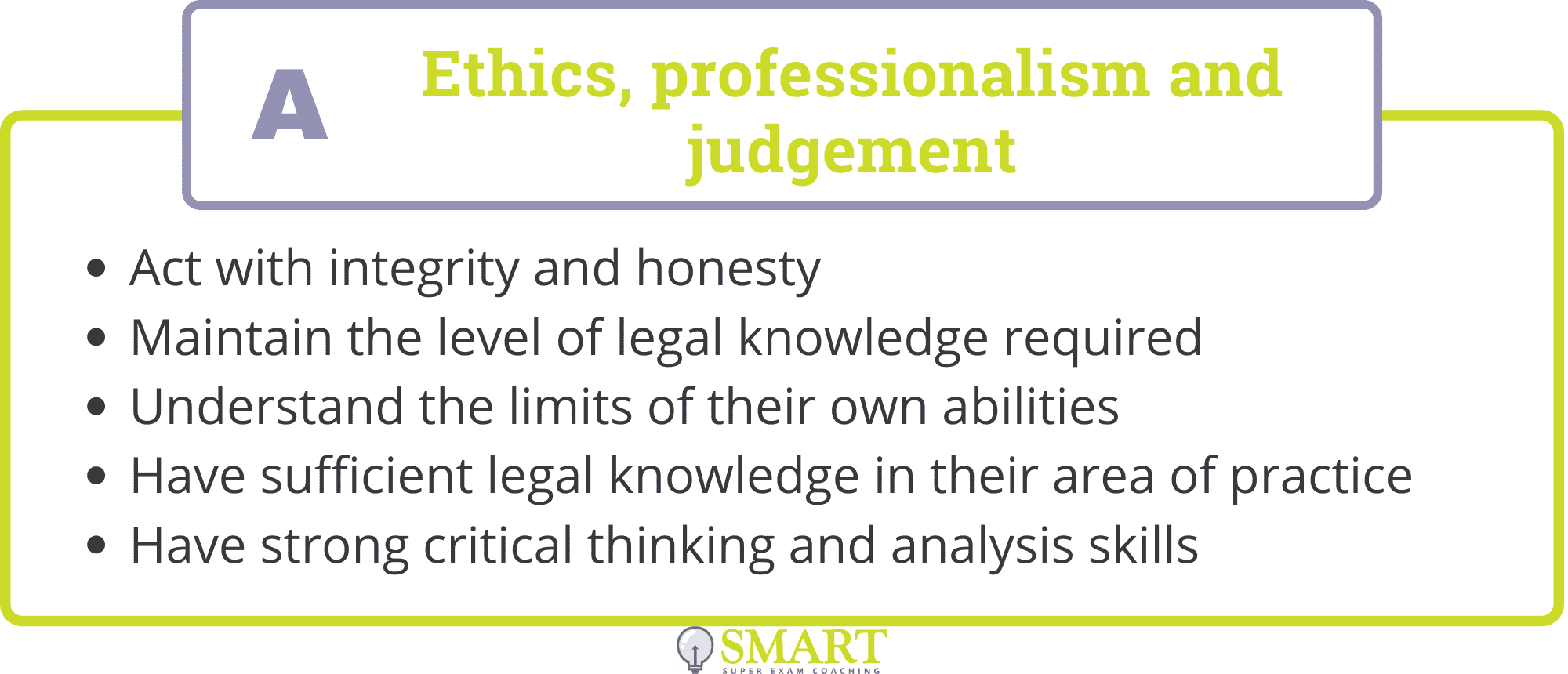 B. Technical legal practice
This requirement covers all the functional skills solicitors are expected to have in order to perform their duties. In this context, solicitors are expected to be able to:
Obtain and interpret relevant facts through effective listening, questioning, and document review
Conduct thorough legal research, evaluate sources and results, and document findings
Advise clients on their legal options with a full understanding of the client's situation and needs
Carry out writing and drafting of legal documents in accordance with the client's instructions and the facts at hand, using clear and appropriate language
Advocate for clients with sufficient preparation and understanding of the relevant legal principles, and adhering to the standards of professional (written and spoken) communication
Perform effective negotiation by presenting and discussing options to find compromise in line with the objectives of all relevant parties
Plan and manage the progression of legal cases through the relevant processes and procedures.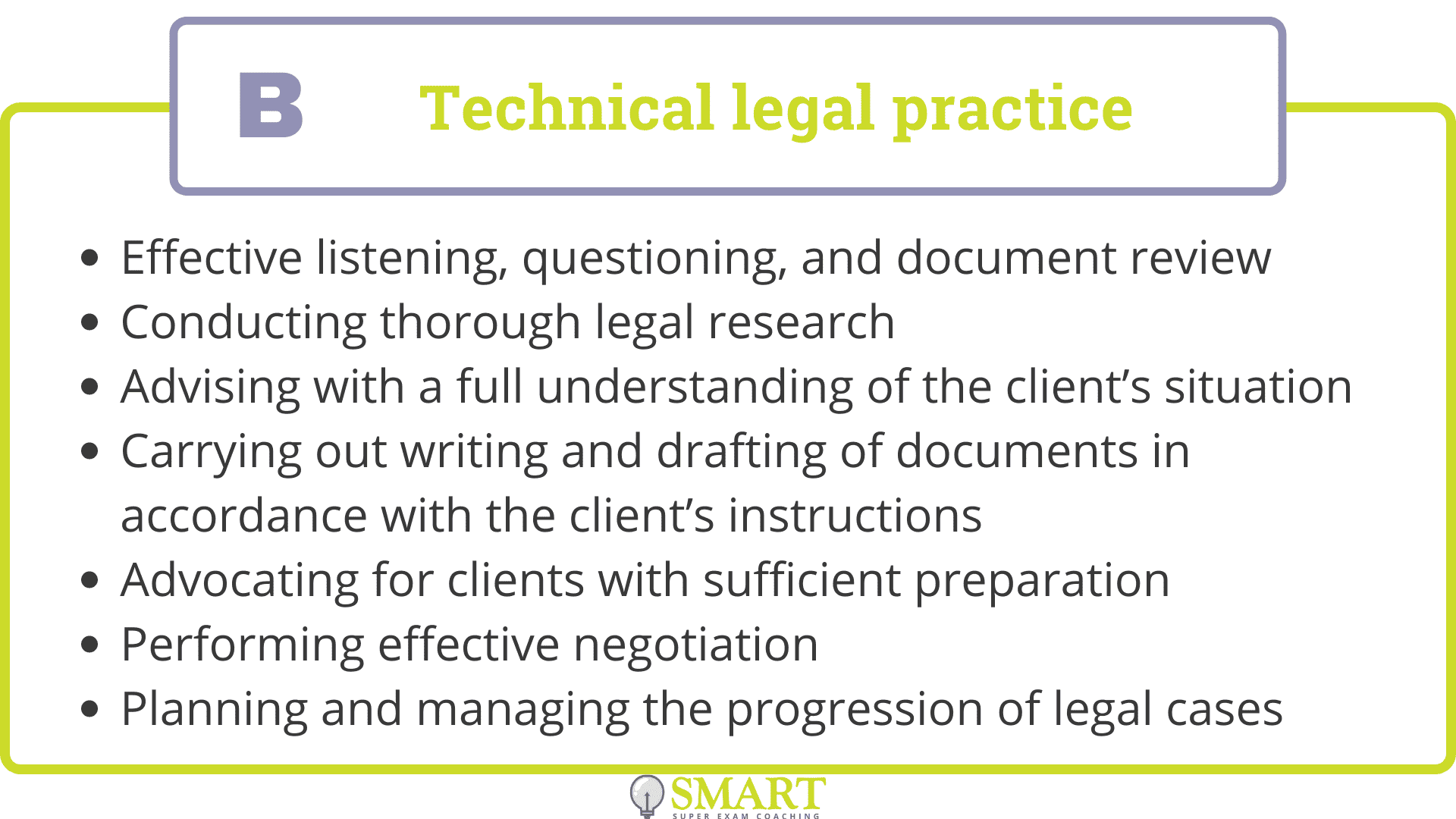 C. Working with other people
It is very important for a solicitor to build and manage relationships with other parties. Under this category, solicitors need to have the following skills:
Clear and effective written and oral communication, using appropriate methods, styles and language for the intended recipient
Building professional relationships with clients based on respect, trust, clear management of expectations and services, and sensitivity to the client's needs or vulnerabilities
Fostering effective and respectful relationships with others including, for example, team members, colleagues or consultants.

D. Managing themselves and their own work
The life of a solicitor can be quite full and hectic, and it is important to manage projects and workload efficiently. With this in mind, the following competencies are specified by the SRA:
Planning and prioritising activities in the agreed scope of work, managing resources, monitoring and reporting on progress, and adhering to timelines and budget
Maintaining detailed records in appropriate information management systems and complying with all applicable data security and protection regulations
Applying good business practice with a good understanding of the financial administration, contractual obligations, and the organisational context in which the solicitor works.

Threshold Standard
This standard sets out five levels for the various areas of competence assessed by the SRA. Solicitors are expected to demonstrate Level 3 competency in each area in order to qualify:
Functioning knowledge: Being able to identify and apply relevant legal principles to specific cases
Standard of work: Performing duties to an acceptable standard for straightforward tasks
Autonomy: Being able to exercise own judgement in most cases and seek additional support where necessary
Complexity: Being able to deal with straightforward cases up to a medium level of complexity
Perception of context: Understanding the significance of individual actions in the wider context of a case
Innovation and originality: Harnessing experience to assess information and make judgements about next steps.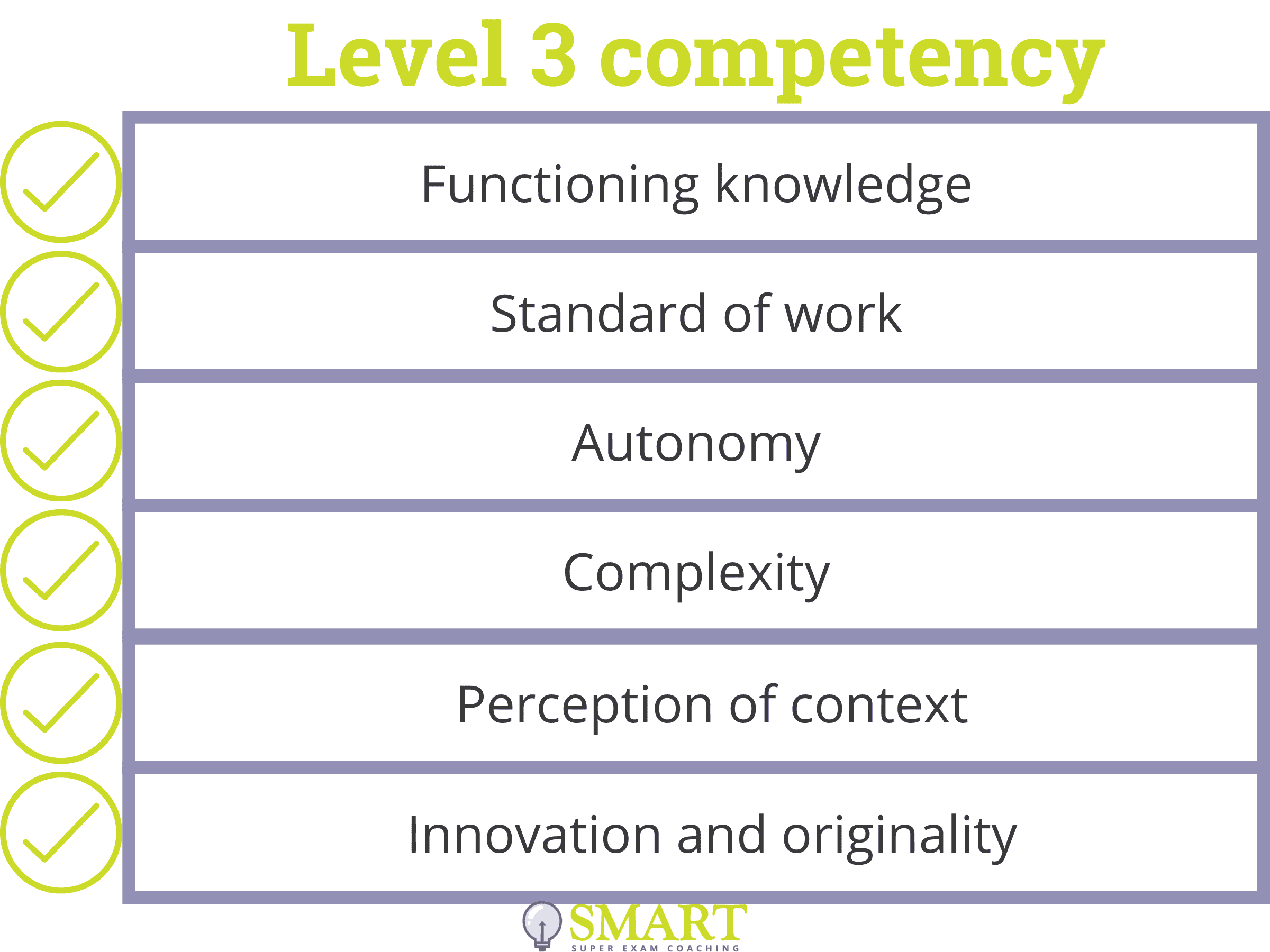 Statement of Legal Knowledge
This statement covers the required standard of legal knowledge in the different subject areas of law, which is evaluated through the SQE1 multiple choice questions.
Preparation for SQE2 Skills Assessments from OSCEsmart
As you can see above, the standard of knowledge and skills required to qualify as a solicitor is very high and extremely detailed. All of the competencies detailed in the Statement of Solicitor Competence are assessed through specific marking criteria for the SQE2 interview, advocacy, legal writing, legal drafting, legal research, and case and matter analysis exams.
Through our experience training solicitors to qualify in England and Wales through the QLTS OSCE regime (which the SQE is based on), we have built up a high level of knowledge and understanding of these marking criteria. Our unique Superexam platform has been developed to help aspiring solicitors master these skills through SQE2 practical simulations in the form of "mock stations". Each mock session is conducted by a qualified solicitor (or an experienced actor or academic in the case of the client interview) and individually marked with personalised feedback given to the candidate.
We have found that applying skills to realistic scenarios in SQE2 mock stations is the best way to absorb learning into long-term memory.
In fact, in a post-assessment survey, 78.7% of our past students said that doing real-time mocks was the most crucial part of their preparation for the OSCE.
The remaining 21.3% had been less prepared in terms of their legal knowledge so needed to focus on their self-learning through revision. Knowledge of the law is the first basic step in preparation, and it is fundamental to have this to gain the most benefit from these mocks.
Moreover, our SQE2 training also covers soft non-legal skills like SQE exam techniques, stress management, speed, concentration, and other tips and tricks to help you face this difficult examination.
It is important to remember that the responsibility for learning ultimately falls on you, the candidate. Nobody can insert the necessary knowledge into your brain, and given the level of difficulty of the SQE assessments, it is simply not possible to "wing it". Trying to cram at the last minute just to get through the assessment won't give you the long-term retention you need to practice effectively as a solicitor in real life. This is also why the Competence Statement focuses heavily on planning and management skills, and why practising solicitors must continue to verify their competence annually.
It is up to you to do the work, and to plan your SQE self-study in such a way that you truly memorise the legal knowledge and retain it in long-term memory through active application in realistic scenarios. We have designed our training methods and the Superexam platform with this in mind – to facilitate your own planning, learning, and knowledge retention through simulated mock stations with SQE Practice Questions.
Our SQE2 coaching service is designed with a modular structure, with the flexibility to work around your timeline and budget. You can buy an individual mock station or receive discounts on bulk purchases. This unique SQE2 prep course offers you the opportunity to hone your Super Exam skills with feedback, support and additional study resources. We truly believe that our approach offers you the best chance to pass this challenging assessment, and to give you the lasting skills you need to succeed as a practising solicitor. We are happy to advise on different module combinations to suit your schedule and circumstances, so don't hesitate, reach out to us today!