Are you interested in becoming a solicitor, with or without a legal background? Would you like to skip all those years and expenses it takes to get a traditional legal degree? Would you like to be able to study and pass a law exam in a way that suits your life and environment?
We can help you to achieve your goal of qualifying as a solicitor of England and Wales!
In September 2021, the Solicitors Regulation Authority (SRA) launched the Solicitors Qualifying Examination.
This SQE, or "super-exam", is the result of a groundbreaking reform process in the legal education industry to create a single, accessible route for solicitors to meet the minimum standard of knowledge and skills required to practise. It will also make it easier and cheaper for candidates to train and obtain solicitor qualifications, as well as making legal services more affordable for clients, with more solicitors expected to be available on the market.
We have years of experience providing solicitor training to help candidates prepare for QLTS OSCE, which is the precursor to the SQE2 examination. Our updated SQE2 course is proven to help applicants master all the skills needed to pass this exam, and at a later stage we also plan to offer assistance in preparing for the SQE1 assessment. We provide professional expertise, support, and the practical experience you need to pass this difficult exam and join the solicitors register of England and Wales.
How to Qualify as a Solicitor
Prior to the development of the SQE, the route to qualifying as a solicitor in England and Wales was quite daunting and expensive. It was also difficult for the SRA itself to administer the process, which involved monitoring the structure and methods of different courses, providers, and training contracts.
Until now, domestic candidates needed to meet the following requirements to be admitted to the roll of solicitors in England and Wales:
Academic stage: Obtain a qualifying law degree (QLD) such as the LLB, or combine a non-law degree with a postgraduate Common Professional Examination (CPE) or Graduate Diploma in Law (GDL)
Vocational training: Complete a postgraduate Legal Practice Course (LPC)
Secure and complete a 2-year training contract
Pass the Professional Skills Course (PSC) (usually during the training contract)
Note: Members of the Chartered Institute of Legal Executives (CILEx) and Assistant Justices' Clerks who have served for five out of the previous ten years in the Magistrates' Courts Service do not need to complete a training contract. These candidates must still complete the LPC exam and the core modules of the PSC.
You can see that this process to obtain solicitor qualifications is long, arduous, and expensive whether you go for a training contract or via CILEx. Even after obtaining the necessary qualifications, many candidates struggle to secure a training contract and thus never manage to complete the qualification process; although the precise numbers are difficult to determine, we estimate that there are many candidates who have completed the LPC exam over the last 10 years, but have been unable to qualify due to the difficulty in obtaining a training contract! Take it into account while weighing SQE vs LPC.
Qualified lawyers from a foreign jurisdiction had to complete the Qualified Lawyers Transfer Test (QLTT) to practise in England and Wales. This was replaced in 2010 by the Qualified Lawyers Transfer Scheme (QLTS), which was designed and piloted as a prototype for the SQE, with two stages:
After engaging with all stakeholders and implementing feedback on the QLTS, the SRA finalised the design of the SQE and launched it in September 2021 as a single pathway for all who would like to achieve their goal of becoming a solicitor in the UK.
Note: Traditional law degree or LPC students who have already started their courses before 1 September 2021 can still continue and qualify on this pathway. Note, you still have an option to choose SQE or LPC and complete the solicitors' qualification via SQE.
What is the SQE?
The SQE, meaning Solicitor Qualifying Examination, is a single, centralised, national licensing examination administered by Kaplan on behalf of the SRA. This new structure will make the process of joining the solicitors register UK much more accessible and affordable. It will also provide consistency and fairness in the qualification process, while thoroughly testing each candidate's knowledge, skills, and competency through robust assessments. The new route applied for any solicitors qualifying from 1 September 2021, with the first exam dates already scheduled for November 2021 (SQE1) and April 2022 (SQE2).
The requirements for qualifying as a solicitor are now as follows:
Obtain an undergraduate degree in any subject (it does not need to be a law degree), or equivalent qualification or apprenticeship
Pass SQE stages one and two (see below for more info)
Complete two years of Qualifying Work Experience (QWE) (see below for more info)
Meet the SRA character and suitability requirements.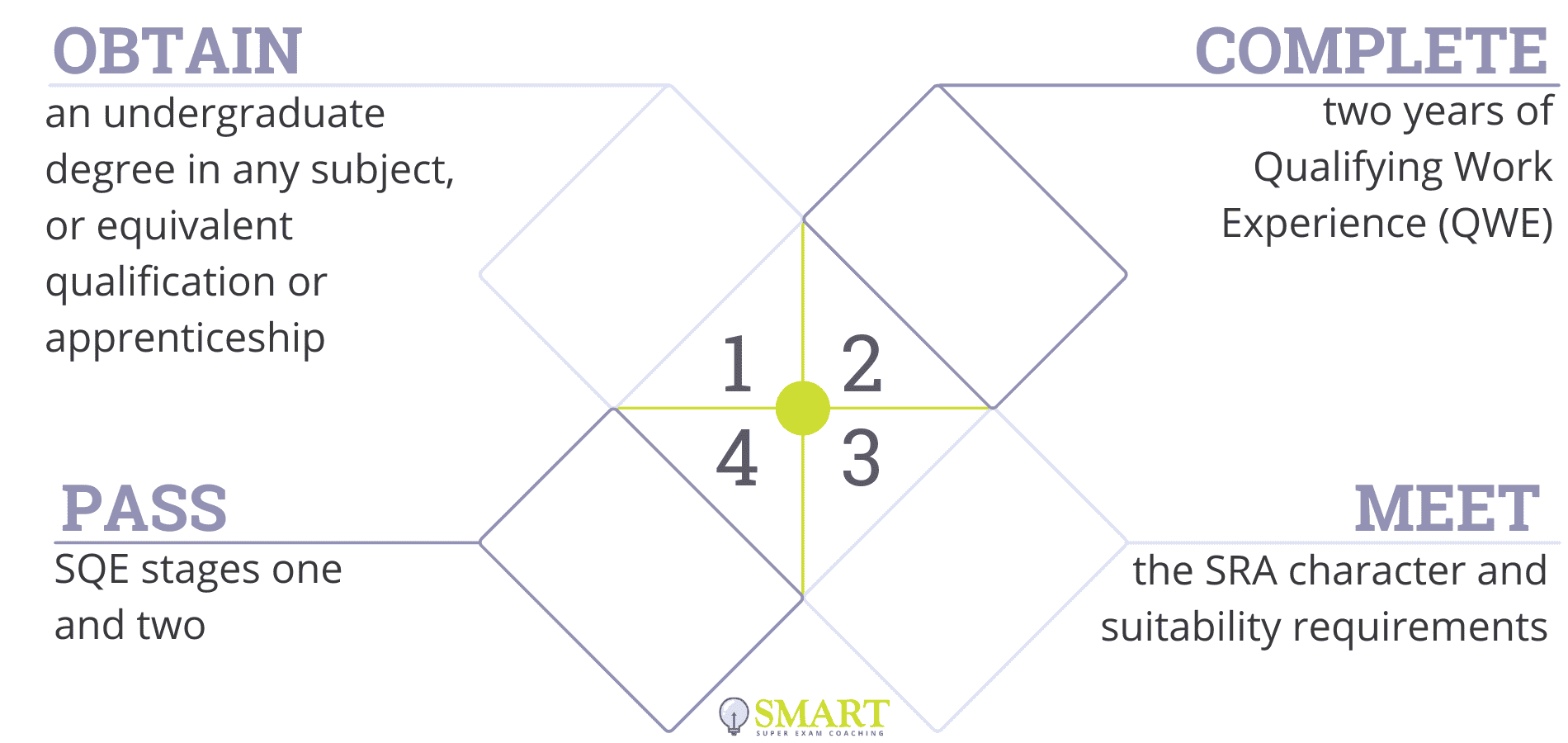 SQE1: Stage One
SQE1 is a computer-based multiple-choice assessment intended to test the candidate's application of functioning legal knowledge (FLK) to realistic client-based scenarios. There are two exams, each containing 180 questions in different areas of substantive and procedural law:
FLK Assessment 1: Business Law and Practice, Dispute Resolution, Contract, Tort, Legal System of England and Wales, Public Law, Legal Services
FLK Assessment 2: Property Law and Practice, Wills and Administration of Estates, Solicitors Accounts, Land Law, Trusts, Criminal Law and Practice


Each question has five potential answers. You will need to assess the details and facts of the question and draw upon your knowledge of the relevant legal principles to select the single best response. Note: there are no "none/all of the above" answers.
The SQE One assessment is offered across two days with a total duration of about 10 hours (5 hours for each assessment). You must pass this stage of the SQE before progressing to SQE Two.
For law students hoping to become barristers, the Bar Standards Board has indicated that, pending further consultation with the SRA, passing SQE1 should be also sufficient as equivalent to the academic component of Bar training.
Learn more about the SQE1 preparation and assessment in our article, or on the SRA website.
When it comes to preparation, you can build up your knowledge of the law through reading textbooks, but the best way to apply that knowledge and pass an exam like this is to answer multiple-choice questions in an SQE mock exam environment.
SQE2: Stage Two
SQE2 is an oral and written examination that tests the candidate's practical legal skills.
This stage of the examination will involve 16 written and oral tasks (known as "stations"), including role-playing or simulating tasks as would be carried out by an actual solicitor. Candidates are assessed on their application of the following skills:
SQE oral:
SQE written: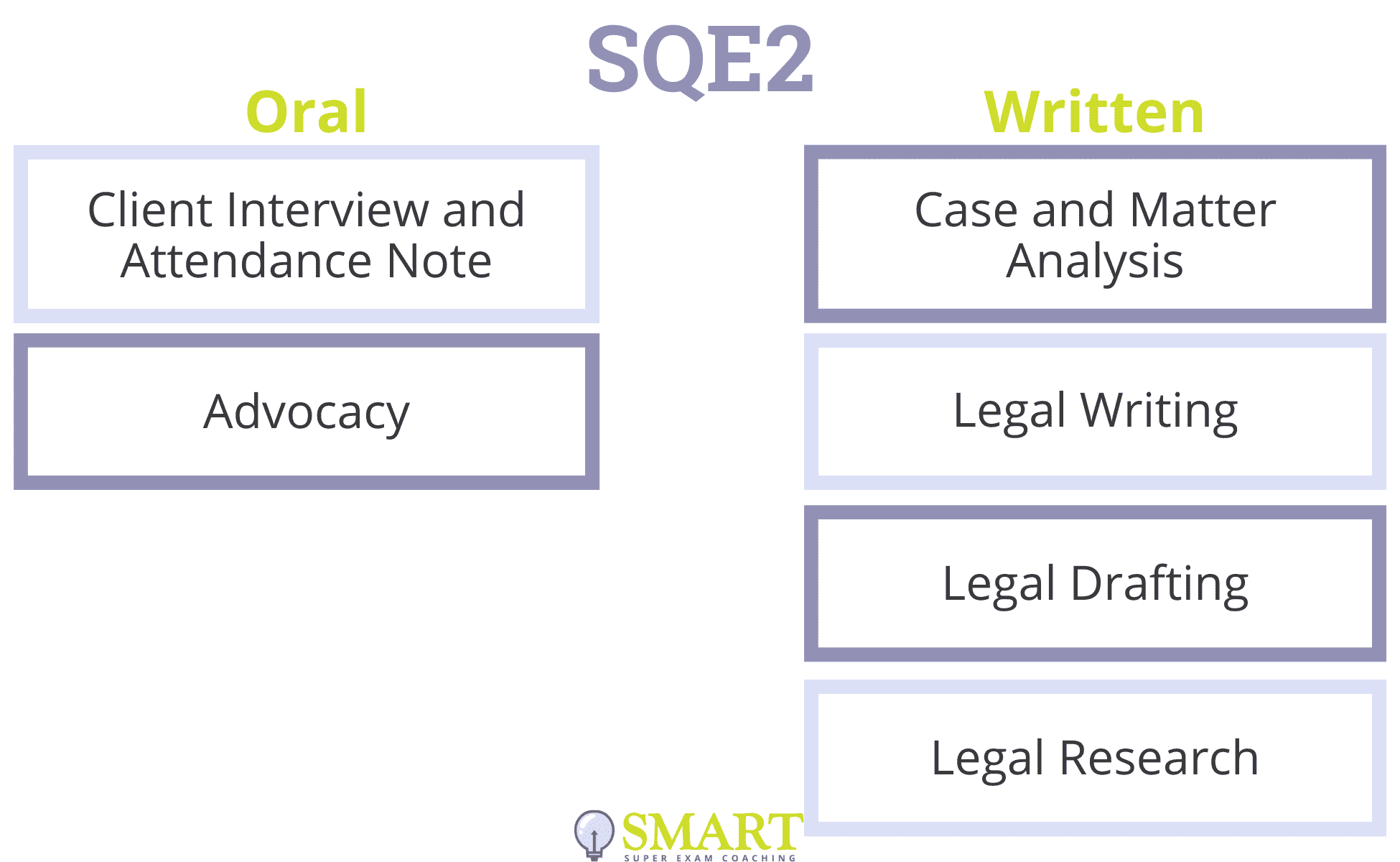 SQE2 is carried out across five practice areas or contexts:
Criminal Litigation
Dispute Resolution
Property Practice
Wills and Intestacy, Probate Administration and Practice
Business Organisation Rules and Principles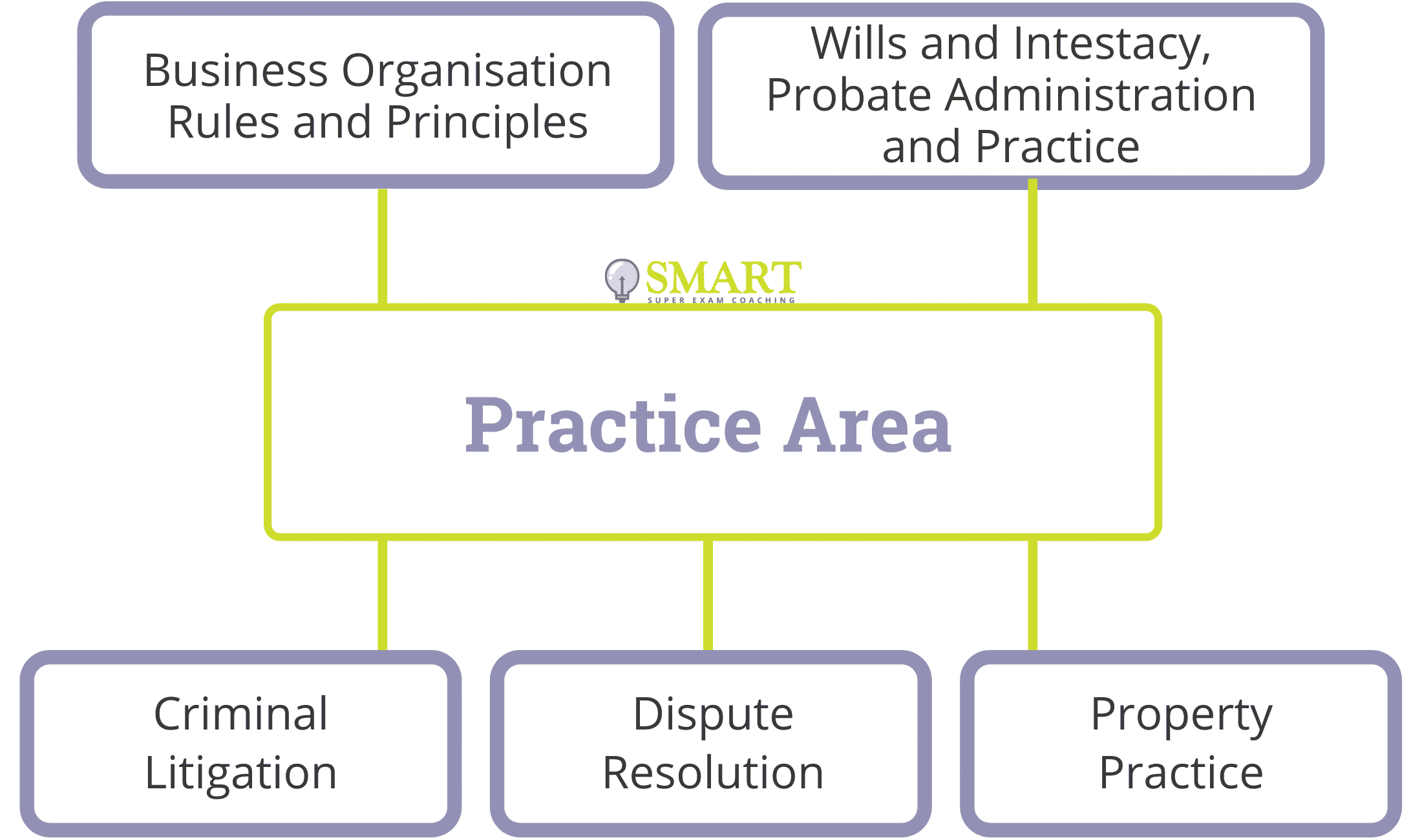 The SQE Two assessment is offered across five days with a total duration of about 14 hours. There are four SQE oral assessments over two half-days, and 12 SQE written assessments over three half-days.
More information about the SQE2 assessment can be found here and on the SRA website.
When preparing for this assessment, textbook knowledge will certainly not be enough to perform the practical tasks required. Our SQE2 prep course offers study materials and video lectures, as well as one-to-one mock stations with personalised tutor feedback. Our unique approach tests your knowledge of different legal concepts within each area of law to help you identify any gaps in your knowledge that you need to focus on to pass this difficult stage of the examination.
Qualifying Work Experience (QWE)
You can complete your QWE at any time during the qualification process, so before, after, or even at the same time as pursuing a solicitor course and taking the SQE1 and SQE2 assessments. It is expected that most candidates will start their QWE after passing stage 1 of the SQE. Candidates must accumulate a total of two years full-time (or equivalent) experience in up to four different organisations (at least six months in each). This allows for much more flexibility than the traditional two-year training contracts in one firm, which were strictly regulated and often difficult to obtain.
QWE must be completed in law firms or in legal services roles in other organisations, and must allow the candidate to develop the core skills and competencies needed to practise as a solicitor. This could include work experience such as:
Paralegal work
Law apprenticeships
Working in a legal clinic
Volunteering in a charitable organisation
Work placements during a law degree
QWE must be confirmed by a solicitor of England and Wales (either within the organisation or by a solicitor outside the organisation with direct knowledge of the work performed), or by a Compliance Officer of Legal Practice (COLP). Confirmation of QWE does not include confirmation that the candidate is competent to practise – the SQE will test this directly.
SQE Preparation Course Cost
The introduction of the Solicitors Qualifying Exam means that candidates have many more options when it comes to preparation courses. As a traditional law degree is no longer required, you can choose from a variety of dedicated SQE course providers which are focused on this exam (or even none at all – although we wouldn't advise this!). The SRA will not be monitoring or regulating the delivery of SQE training, instead focusing solely on the candidates performance in the assessments.
The costs for SQE training courses can vary widely, depending on the type of provider and the programme offering.
At the time of writing, university courses to acquire solicitor qualifications can cost between £500 and £16,500, while online SQE1 courses generally cost an average of around £3,000 (although many providers are still finalising their content and pricing, so this average figure may change).
Our OSCEsmart solicitor course was originally set up to help candidates prepare for the QLTS OSCE (which is now SQE2). We are a team of academics and qualified solicitors from different cultures and backgrounds, with the unified goal of sharing our expertise to create professional opportunities for aspiring solicitors. Our tutoring solicitors have passed the QLTS OSCE with the help of our training, and are now practising solicitors who are dedicated to helping more applicants become qualified.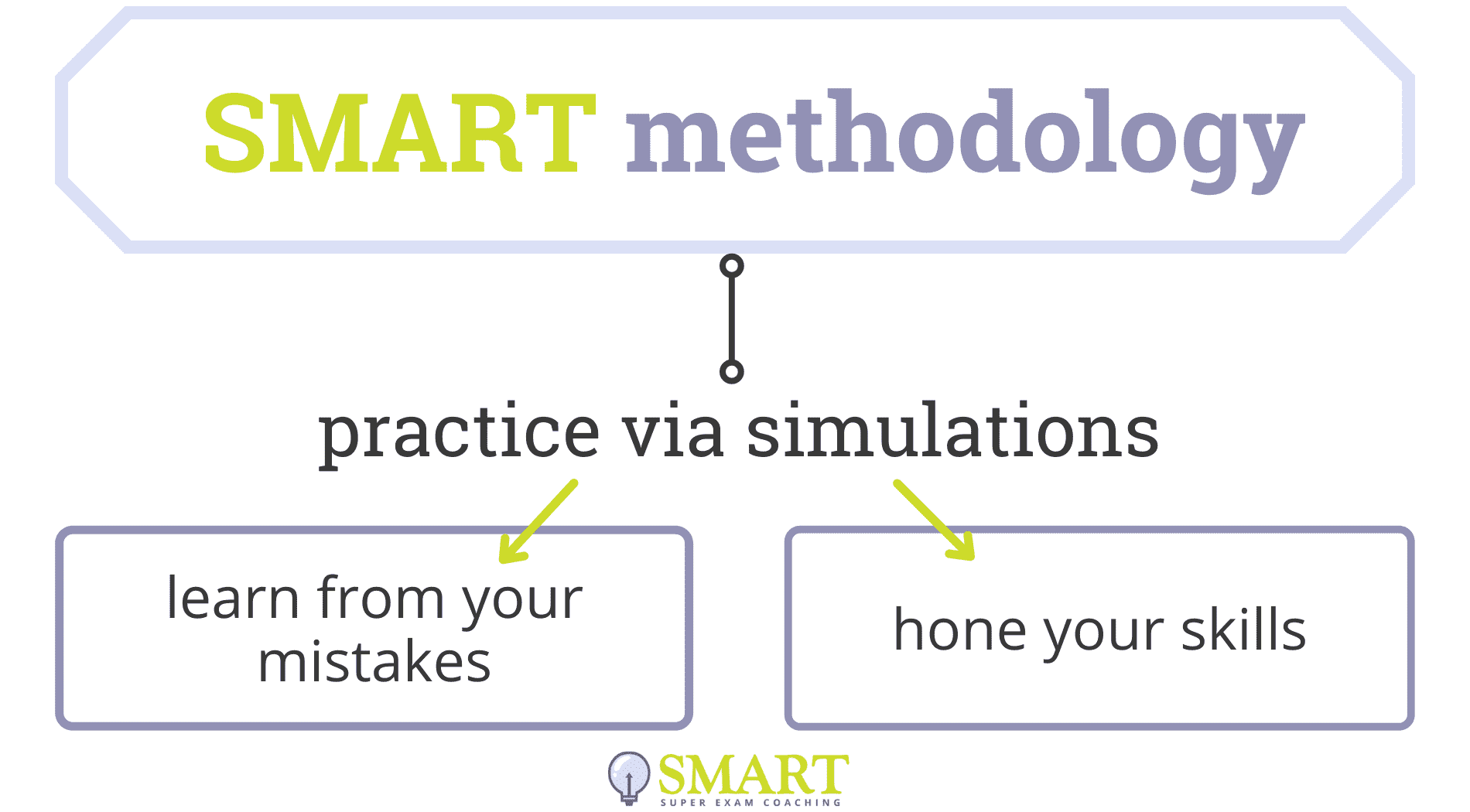 The core of the OSCEsmart methodology is practice-based learning, which helps candidates perform practical tasks via simulations, make mistakes, and subsequently learn in a way that builds long-term knowledge.
We offer a wide range of SQE2 prep course packages to suit your timeline, training needs, and budget. Our training services include a variety of study materials, video lectures, mock stations, and tutor feedback. With our flexible model, clients are free to choose whatever combination of modules best suit their needs. Starting from £70 per mock station, our pricing is fully transparent, with discounts offered on bulk purchases.
OSCEsmart can also be tailored to law firms managing the SQE training process for their in-house trainees. OSCEsmart mocks are scheduled and conducted on our tailor-made learning management superexam platform. Beyond the SQE, this system can be used as an online white-label platform for your own law school. The application of the platform can be extended and customised according to your needs, be it onboarding programmes, cultural training or any other company-specific business processes. It will also be a convenient ground for conducting mockups of common kinds of cases usually taken on by your firm where trainees can practice on realistic scenarios through detailed simulations. This will vastly reduce the burden on supervisors, help to avoid mistakes, and improve consistency. We are launching a tutor training course, which will allow law firms to train their own solicitors to become SQE tutors for in-house candidates. We believe that law firms can make their own "law schools", and we are ready to share our experience and help with everything you need to achieve that at your firm.
How Much Will the SQE Exam Cost?
The total fee for taking both SQE1 and SQE2 assessments will be £4,564:
SQE1 – £1,798
SQE2 – £2,766.
There will be two sittings of each stage of the SQE law exam per year. Candidates are allowed to attempt each stage of the SQE up to three times in a six-year period. The cost for re-sits has not yet been confirmed by the SRA, but it is expected that the costs mentioned above will apply for each attempt.