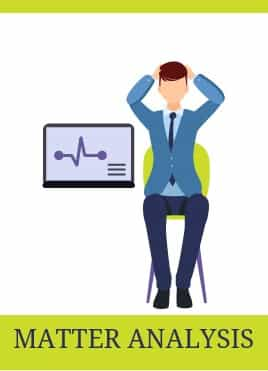 The Solicitors Regulation Authority (SRA) introduced the Solicitors Qualifying Examination (SQE) as part of a new, single route to qualifying as a solicitor in England and Wales in September 2021, replacing the Legal Practice Course (LPC) and training contract route. This intensive and challenging assessment comprises two stages, SQE1 and SQE2:
SQE1 is a multiple-choice assessment testing functioning legal knowledge in various areas of substantive and procedural law.
SQE2 tests legal skills and the application of legal knowledge through a combination of oral (client interviewing and advocacy) and written (legal research, legal writing, legal drafting, and case and matter analysis) assessments.
Case and matter analysis is somewhat unique in the SQE as there is no equivalent assessment in the QLTS (the scheme for foreign-qualified lawyers to qualify in England and Wales), while most of the rest of the SQE assessments are directly based on the QLTS assessments. It is also not a core module of the LPC under the old qualification route.
This means that there is no historical knowledge or direct experience to draw upon to prepare for the case and matter analysis exam.
SQE2 case and matter analysis does, however, reflect skills tested in prior QLTS OSCE assessments and other SQE stations. We have harnessed our extensive experience with helping solicitors through the OSCE assessments and the specifications provided by the SRA for this SQE station to design a comprehensive approach to help SQE candidates prepare for this novel assessment through our unique Superexam platform.
SQE Case and Matter Analysis Assessment
The SQE2 written assessments are conducted over three half-days, and include three case and matter analysis exercises covering the following practice areas:
Day 1: Dispute Resolution or Criminal Litigation
Day 2: Property Practice or Wills and Intestacy, Probate Administration and Practice
Day 3: Business Organisations, Rules and Procedures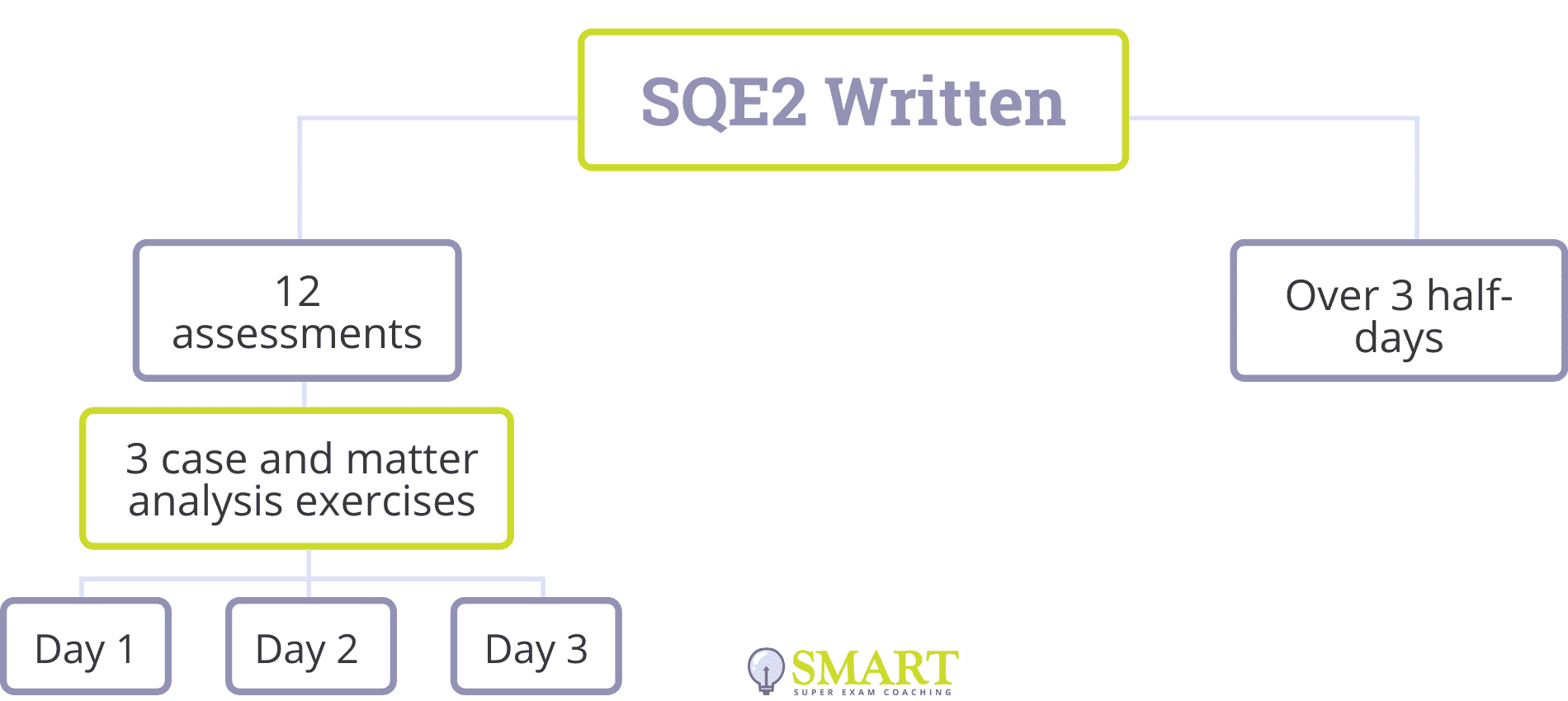 In this assessment, the candidate must provide a partner with legal analysis and advice on a case in the form of a written report. Candidates will be given a summary of a scenario with supporting documentation, and will then have 60 minutes to review the information, identify the pertinent facts and legal principles, and provide client-focused advice.

Negotiation skills may also be tested in this assessment, where the candidate will need to present practical solutions for multiple parties to resolve a dispute or agree on the terms of a transaction, for example. Negotiation can be assessed in all of the SQE2 written assessments, but is most likely to appear in case and matter analysis and/or legal writing. Successful negotiators should be able to identify the pros and cons of various legal arguments and strategies from the client's perspective, while also keeping the goals of any relevant third party in mind and suggesting options that they may be willing to accept.
SQE2 Marking Criteria: Case and Matter Analysis
In SQE 2 case and matter analysis, candidates will be assessed based on the professional judgement of experienced solicitors who have been trained as assessors for the SQE. The marking of all the SQE2 assessments is judgement-based rather than according to a checklist, considering the following criteria:
Skills:
Identification of relevant facts
Demonstrating client-focus in the written advice
Using clear and correct language
Application of law:
Applying the law correctly to the situation
Applying the law comprehensively and demonstrating honesty and integrity in relation to any potential ethical issues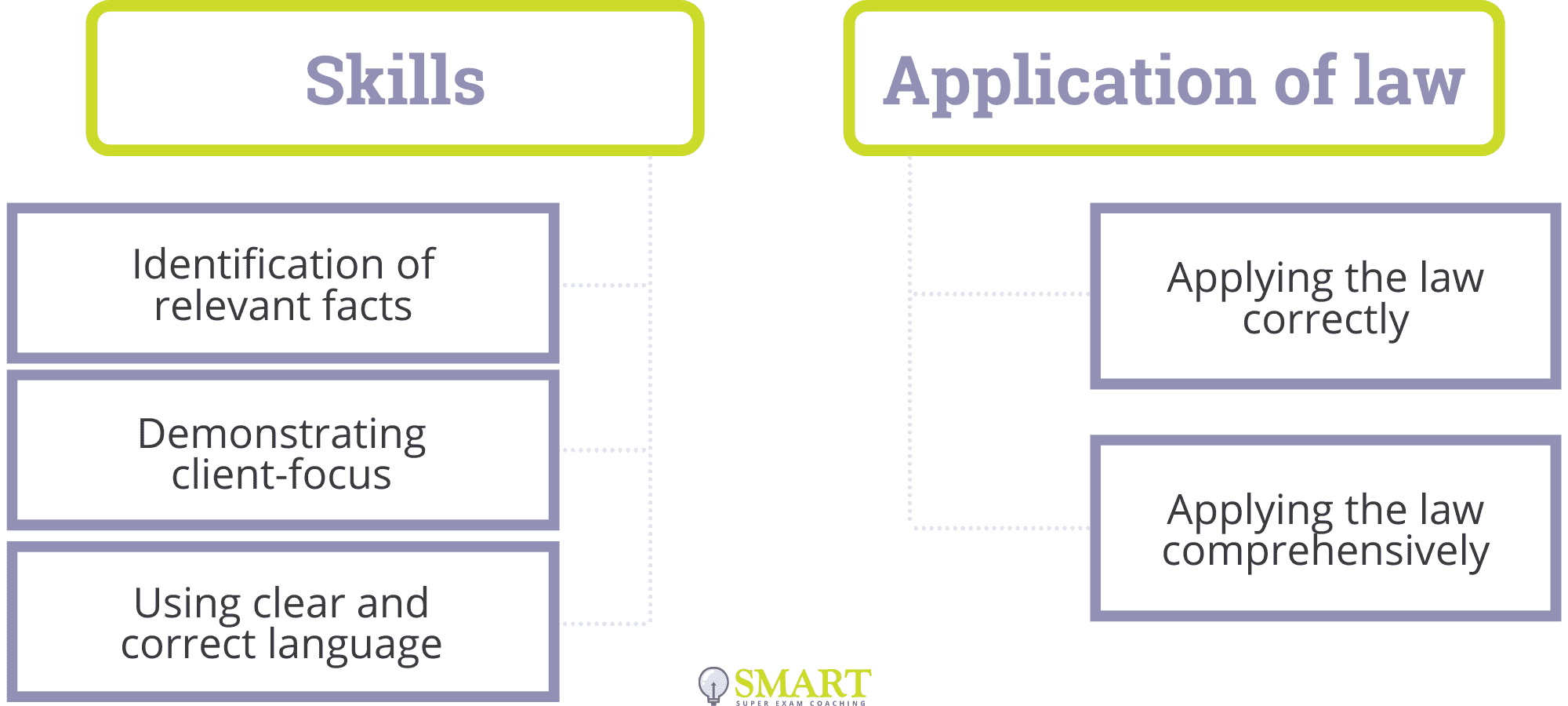 Preparing for SQE Case and Matter Analysis
There are several elements to consider in preparing for this SQE2 assessment. With only one hour to compile your report, every minute counts. During this time, you need to:
quickly read through a case file and supporting documents and identify the relevant facts;
analyse the situation against the relevant legal principles;
focus on the client's wishes while also assessing the needs and perspective of other stakeholders in the scenario in order to present options and strategies that may result in a "win win" for all sides in a final negotiated agreement;
ensure that the report itself is clearly written and well structured with suitable headings for each item to be considered.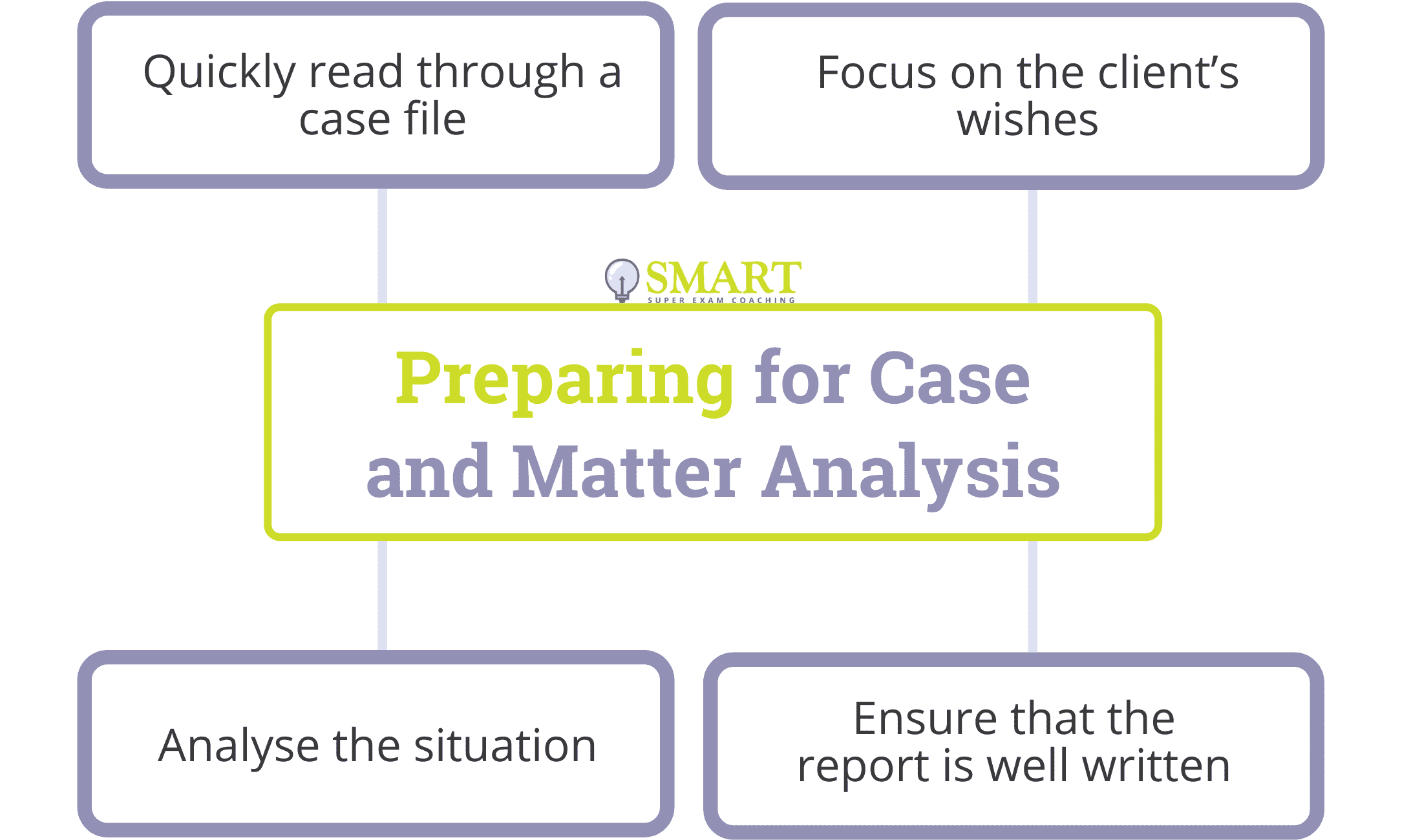 Overall, the SQE tests a range of competencies including communication and listening skills, persuasion, the use of appropriate language, fact gathering, and maintaining client focus. Some of the competencies are tested across different assessments.

For case and matter analysis, your preparation will mostly overlap with SQE legal writing and the attendance note part of the SQE client interview assessment.
The SQE case and matter analysis skills assessment also draws upon competencies that have historically been tested in the advocacy/presentation QLTS OSCE assessment, which we have extensive experience with. The OSCE presentation exam assessed the candidate's ability to present oral analysis of a legal case, often to a professional client, e.g. a commercial landlord or a company's executive director with many years of experience.
SQE case and matter analysis could be considered even easier than this, as it takes the form of a report to a law firm partner, without needing to consider the extra formalities in the language used for clients or other stakeholders.
While it is important to build and maintain your functioning legal knowledge through reading books and practice area summaries, our experience and research strongly indicates that the best way to learn and internalise knowledge and skills in SQE2 prep is through repeated practice in SQE mock simulations.
Our active teaching SQE methodology places the student at the forefront of their own learning, by practicing the tasks, making mistakes in a safe and supportive environment, and learning from those mistakes through personalised feedback and guidance.
Conducting SQE mocks aims to solidify learning in long-term memory to not only pass the SQE, but also to serve your future clients as a capable and knowledgeable qualified solicitor.
Our Smart Mock Station
As there is no precedent for this particular assessment, our SQE case and matter analysis mock station goes the extra mile to support you in your preparation. See PRICES & PACKAGES
While we won't have a dedicated lecture available on this topic until more experience is obtained from the first SQE sittings, our case and matter analysis mock will support you in developing the SQE negotiation, analysis, and writing skills you need to succeed in this novel task.
Our past students have told us that oral feedback and explanations were extremely helpful in their QLTS OSCE preparation. Our case and matter analysis mock therefore includes written and oral components, with direct feedback and one-on-one discussion via a video call with our expert tutors to analyse your written submission and help you develop your SQE case and matter analysis skills.
All our SQE mock stations are offered on our custom-built Superexam platform which is designed to mirror the SQE assessments, giving you the best opportunity to practice in realistic scenarios so that you know exactly what to expect when you sit the SQE. Our skills lectures are based on an in-depth understanding of the individual assessments through first-hand experience, as we have already taken and passed the equivalent QLTS assessments. Our training service also incorporates legal skills video workshops and practice questions for specific SQE2 stations. The Superexam platform is built in a flexible modular format, to work around your unique experience, schedule, and budget.
You can choose the date, time and area of law for each SQE2 mock.
You can book individual SQE mock exams priced at £70-£120.
You can also avail of discounts on bulk purchases.

We understand that the preparation requirements of each candidate, especially a foreign lawyer, is unique, so we have designed our SQE online school to be easily tailored to your specific needs. We are happy to recommend certain SQE2 mocks or combinations, so feel free to reach out to us for further advice.