The Solicitors Qualifying Examination (SQE) replaced the traditional route to qualifying as a solicitor (via the Legal Practice Course (LPC) and training contract) in September 2021. Under this new regime, aspiring solicitors must pass stages 1 and 2 of the SQE along with two years of Qualifying Work Experience (QWE) to join the roll of solicitors in England and Wales. The Solicitors Regulation Authority (SRA) has created this deeply comprehensive examination to thoroughly assess the legal knowledge and skills of candidates. Extensive preparation through self-study or with the help of a training provider will thus be crucial for candidates to pass this difficult assessment.
It is important to remember that the purpose of your SQE preparation is not just to pass the exam, but to become a competent professional solicitor. Therefore, it is essential that you plan your preparation with enough time to truly understand and absorb the legal concepts in long-term memory.
By the time you sit and pass the SQE, the knowledge and skills that you have learned and practiced should become second nature so that you can provide a high standard of service to your future clients.
Research shows that the best way to build long-term knowledge and understanding is through active learning – when students engage with the content rather than passively perceive it. To create these opportunities for our students, the Smart tutors engage in active teaching by integrating such activities as:
case studies
problem-based learning scenarios
role-play simulations as an invitation to mistake-driven learning
practice-based strategies.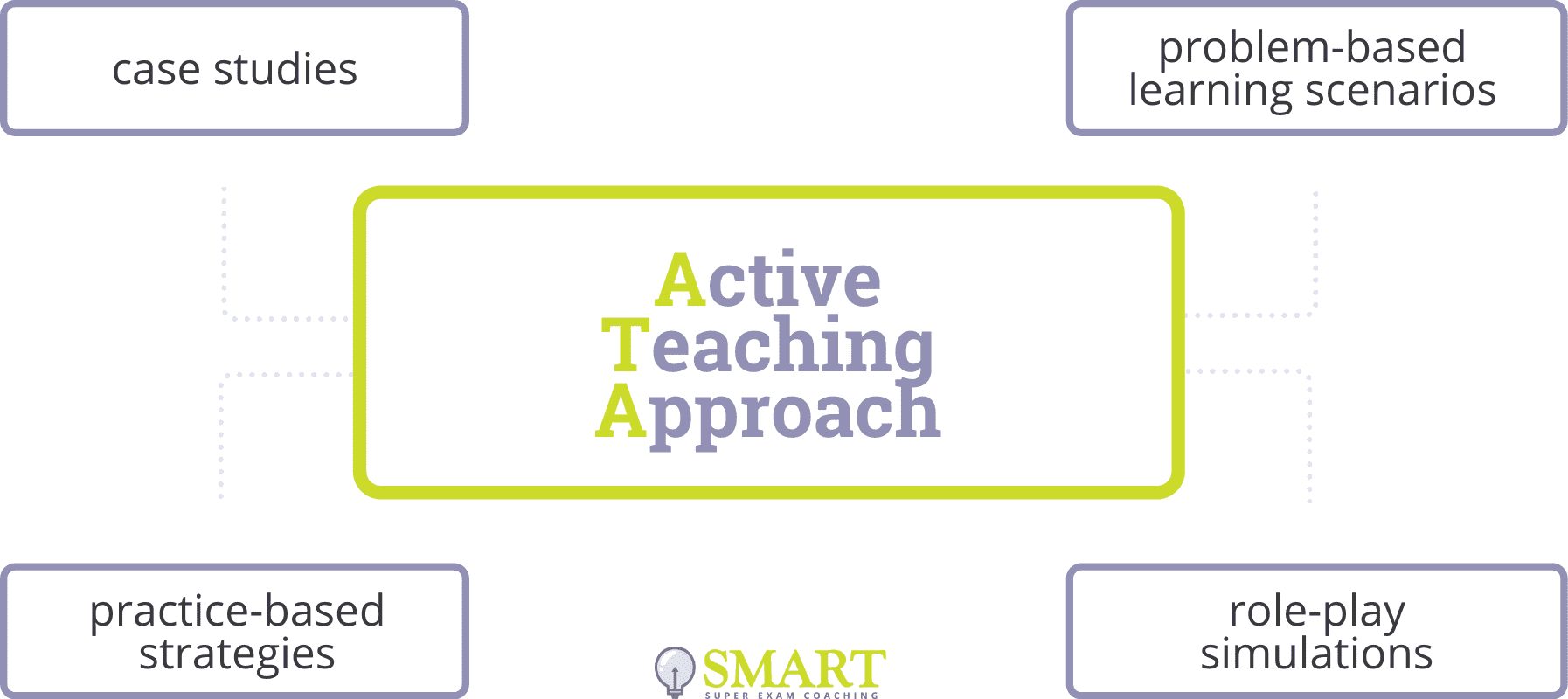 With the active teaching approach, a tutor turns into a facilitator who helps the students to understand the problem and work out which learning they require in order to find a solution. The chapters below will outline our methodology and the best way you can build up your legal knowledge and practical skills in your preparation for the SQE.
SQE for Aspiring Solicitors
The SQE is a very challenging assessment, so extensive planning, preparation, study and practice will be essential for all candidates. However, SQE preparation needs may vary per candidate depending on their background and experience.
Candidates without a legal background
This group of SQE aspiring solicitors includes:

These candidates will need to undertake a significant level of self-study, as well as perhaps some further guidance from a university or online SQE course provider. Non-law graduates in particular will need to work hard to study and learn the law in order to become a UK lawyer without going to law school. It is possible to self-study by reading books or practice area summaries, but this will be difficult if you don't have any legal background. We would recommend registering for a course to help you fully understand the legal concepts that will be assessed in the SQE. The list of authorised SQE course providers can be found on the SRA website.
LLB and GDL graduates may have more legal knowledge than non-law graduates, but still lack the practical experience necessary to truly understand and apply the concepts in the realistic scenarios that will be tested in the SQE.
Candidates with a legal background or partial legal education
This group of SQE aspiring solicitors includes:

These candidates may be better able to self-study for the SQE, given their higher level of legal knowledge and experience. For this group, we would also highly recommend preparing for SQE 1 and SQE 2 simultaneously, if possible.
Revising the law through reading may get you through the SQE 1, but if you combine your reading with practical SQE 2 simulations, this will greatly improve your understanding of and ability to apply the law, which will help for both SQE 1 and SQE 2.
Smart Methodology and SQE Self-Learning
Our training programme is based on our Smart Methodology, which has been developed based on research and our years of experience helping foreign-qualified solicitors prepare for the QLTS OSCE (precursor to SQE 2). Our experience and research has shown that the best way to absorb and retain knowledge and skills in the long term is through doing, not just reading. Our Methodology therefore focuses on active teaching and mistake-driven learning as a mode of practice-based adult education.
Do you remember learning how to ride a bicycle? You can't do this by just reading a book. Moreover, for most people, the first attempts involved a few falls before figuring out – through practice – how to push the pedals and steer the handlebars in the right way.
This approach can be applied to any type of learning. SQE self-teaching through reading books and summaries alone is not enough to really learn the material. Taking risks, making mistakes, and doing better the next time is the best way to stimulate long-term knowledge retention and comprehension. Applying knowledge to real-life scenarios through repeated practice in a safe, supportive environment allows students to make mistakes, identify the gaps in their knowledge, and assimilate their learnings into long-term memory.
Just as you never forget how to ride a bike, you won't forget your legal knowledge and skills once they are ingrained in your long-term memory through continued practice, practice, practice.
Read more about SQE preparation approach.
Our Smart Methodology also highlights the importance of sqe self-study and self-directed learning. No matter what kind of training course you sign up for, you simply cannot buy knowledge. In order to learn and solidify your knowledge, it is up to you to first plan your own preparation, and then read, take notes, re-read, update notes, revise, and do practical exercises throughout.
Our Superexam Platform
Our Superexam SQE platform and study materials are intended to facilitate your own efforts to learn.
We cannot insert the knowledge and skills into your head, and we cannot sit and pass the exam for you, but we can provide you with the resources and support you need to do your own preparation, study, and practice.
Our team of tutors and assessors includes successful QLTS candidates, academics, and experienced legal professionals in a variety of specialties.
Our Superexam platform is truly a unique offering and a great tool for SQE sqe self-study. We have offered training for QLTS candidates under the old regime with hugely successful results. We have taken that experience along with research into learning methods to develop the platform. We provide legal skills video lectures and workshops, lecture notes and SQE mock station simulations (with personalised feedback) which are specifically tailored to SQE exam conditions and marking criteria. We also provide guidance in other skills that will help you get through this assessment, such as exam techniques, stress management, and time management. It will be also important for candidates to develop fast reading and comprehension skills, as well as learning the structure of common documents so that you can navigate quickly to the most pertinent sections.
SQE 1 Preparation: Law
The SQE 1 assessment is a multiple-choice exam which tests how the candidate applies his/her functioning legal knowledge (FLK) to realistic client-based scenarios. The exam takes place over two sessions, with 180 questions in each, covering the following areas of substantive and procedural law:
FLK1: Business Law and Practice, Dispute Resolution, Contract, Tort, Legal System of England and Wales, Constitutional and Administrative Law, EU Law, and Legal Services
FLK2: Wills and the Administration of Estates, Solicitors Accounts, Land Law, Trusts, and Criminal Law and Practice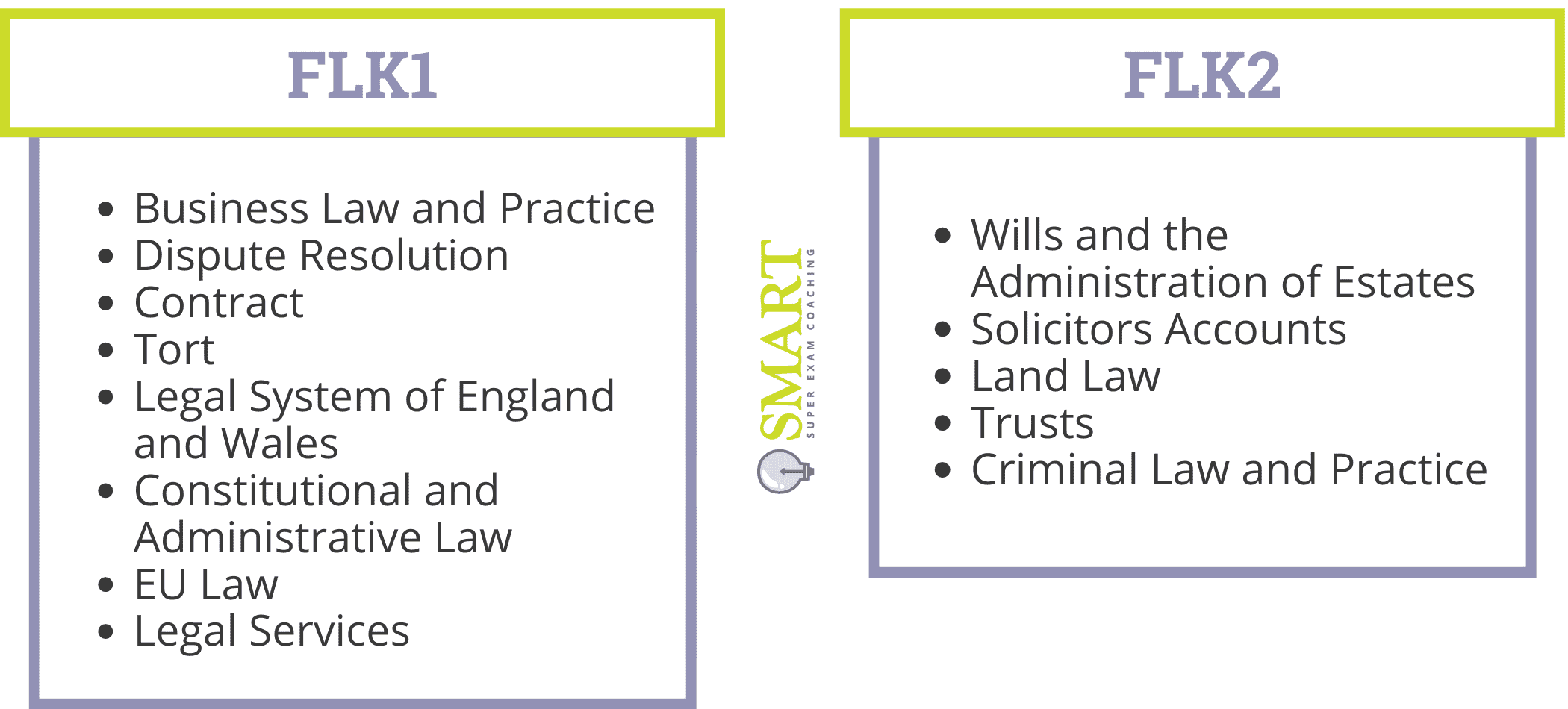 The standard of knowledge required to pass this stage of the examination is very high, and will require a lot of SQE self-study, especially for candidates without a legal background. Our recommended approach for your SQE 1 prep is as follows:
Read: Read law books, cover to cover – at least once, but even more than once if you can.
Make your own handwritten notes: Writing by hand is proven to help absorb information into long-term memory. The act of handwriting activates different memory associations (i.e. your inner voice recites, your inner ear hears, your eyes read as you're writing) – sort of like reciting something over and over again to memorise it, but in one movement.
Perfect your knowledge with practical exercises (MCQs): Answering mock questions under exam conditions is the best way to get a more comprehensive view of the legal concepts and identify the gaps in your learning. This is the most crucial step for all candidates.

SQE1 Live Lectures
Our SQE methodology makes learning exponentially easier for students and is unique in it's approach.
We offer so-called 'collaborative lectures' which are in the form of a conversation between two professionals which adds a practical and interactive aspect to the training.
We do these SQE1 lectures with legal professionals and trainers who either specialise in the particular field being offered or have experience in that field of study. In addition to the SQE, live lectures themselves, we provide notes in a special format making memorisation easy. Students are also required to do their own research in order to internalise the new study material and add their own findings from their different readings. On top of this we discuss MCQs in some of these lectures and all the recorded live lectures are available in the library, subdivided into small and accessible chunks for students.
Collaborative live practical and interactive lectures
Legal professionals trained in their fields
Formatted notes to aid memorising
Promotion of further in-depth study to help internalise information
Discussion of MCQs
User-friendly online platform with allowing for scheduling and easy access to different resources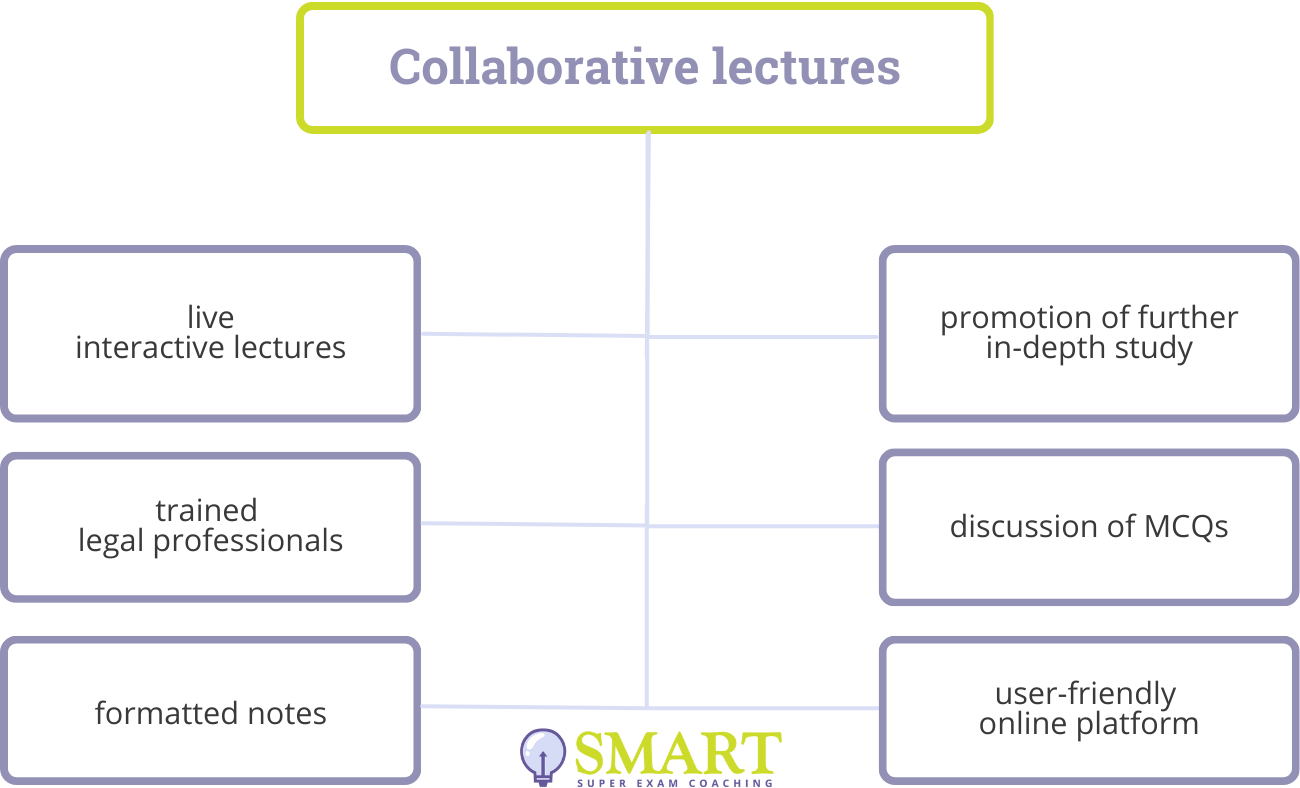 As mentioned before we have a more learner-centred approach with our lectures. Here is a suggestion for candidates when choosing your provider.
If it's an online course with pre-recorded material please make sure that the videos are not made with scripts.
These sorts of lectures make perception and learning more challenging. It is difficult to absorb material when someone is reading it as opposed to when someone is actually explaining it in detail and being 'real'. We would suggest that you ask for some samples of the lectures when choosing your provider or to ask for the types of lectures provided. If it's based on transcripts then they may be less helpful and you may lose some of the information provided.
Our lectures are different in that they are collaborative and handled as a conversation, asking each other questions, clarifying concepts and discussing everything in detail. So information is understood, absorbed and assimilated more easily.
Lastly, individuals who are self-studying have the option to access recorded versions of the live lectures, allowing them to schedule their study time around their busy schedule and learn at their own pace.
Here's how it works:
The live lectures are recorded and added to the library in small digestible chunks. Students will thus be able to:
Watch the recorded lectures before the life lecture and prepare questions
Attend the live lectures streaming that cover their questions. Please see the schedule.
Have access to the updated recorded live lectures in the library at their convenience.
We provide a 12-month subscription to our SQE lectures, giving aspiring solicitors access to all lectures and accompanying materials. Our lectures cover SQE1, which encompasses all legal theory, but we also offer the option to purchase SQE2 lectures separately. Additionally, we offer the flexibility to choose between full access to both SQE1 FLK1 and FLK2 lectures or access to those law subjects that are assessed at the second stage (SQE2 lectures). Find more about the SQE1 Prep Course from OSCEsmart.
In addition to the lectures, students also need to purchase some SQE law books, which we will discuss next.
Reading Material
The main publishers of law study materials that have been used by law schools in the past and are currently used for the SQE1 exams are CLP College of Law Publishing on behalf of the University College of Law (UCL) as well as Oxford University Press (OUP). The Legal Practice Course guides or LPC books from OUP and UCL are indeed also highly recommended by us. Let's have a look at these SQE resources.
OUP SQE Prep and Practice (Oxford University Press)
One of the biggest benefits about the OUP SQE Prep & Practice products is that they're online. The OUP SQE online resource can be accessed via a 12 month subscription and is a single online resource that includes high quality SQE law books, approximately 1200 MCQs and other material. The OUP SQE MCQs are very well written and should be a great tool to prepare you for the actual SQE1 exam test. SQE self-study resource from OUP also has Smart MCQs features where, for example, you can compare your progress with others. The cost for access to this OUP SQE online resource which includes access to the LPC books from OUP, some mock assessments and other resources, is £450.
UCL (University College of Law) SQE manuals
A benefit about purchasing UCL SQE books is that there is no time limit to access to your books due to them being hardcopy. These SQE manuals are available as different bundles of books. The biggest bundle has 15 SQE manuals and is priced at £479.88. UCL SQE MCQs are also available (approximately 600 MCQs are accessible via a QR code).
OUP vs UCL/CLP:
OUP

CLP / UCL

Electronic / 12 months' access

Hard copy / no time limit

Approximately 1200 MCQs

Approximately 600 MCQs

Smart MCQs features e.g. you can compare your progress with others

N/A

A single online resource that includes SQE law text books and MCQs, other materials

Different bundles of books available, the biggest is 15 SQE manuals

£450

The biggest Bundle of 15 study manuals:

Law & Professional Practice

£479.88
One of the best resources for this that we can highly recommend is the SQE Prep & Practise products developed by Oxford University Press (OUP). This online tool comprises high-quality study content and over 1,000 sample MCQs in the same style as the SQE 1 questions. The OUP SQE Prep & Practise products cover the same areas of law as SQE 1 – individual content products can be purchased covering FLK1 and FLK2 subjects, or the full set covering both.
The OUP SQE Prep & Practise has been developed by legal and academic experts on an intuitive, user-friendly online platform. The products are self-paced so you can work through them on your own schedule. This SQE 1 prep tool also includes additional resources and features including exam techniques, examples, a full glossary, cross-references, summaries, and mock SQE 1 assessments (with unseen questions). It is really a fantastic resource to prepare for this difficult multiple-choice assessment.
For candidates with some legal background or experience, the best approach would be to prepare for SQE 1 and SQE 2 simultaneously.
Practicing your skills through SQE 2 mock stations (as detailed below) will help to improve your understanding of the underlying FLK, which will in turn improve your performance in SQE 1.
SQE2 Preparation: Skills
The SQE 2 assessments are where candidates put their legal knowledge into practice through 16 practical (oral and written) exercises, known as "stations":

These assessments test the candidate's knowledge in the areas of Criminal Litigation; Dispute Resolution; Property Practice; Wills and Intestacy; Probate Administration and Practice; and Business Organisations, Rules and Procedures.
QLTS candidates who have passed the MCT and plan to proceed to SQE 2 instead of OSCE will also need to do some additional reading as SQE 2 covers different areas of law that are tested in MCT. Other candidates who have passed SQE 1 will have already covered the areas of law that will be tested in SQE 2 – however, it is still important to keep self-teaching through reading and revising your notes.
Remember, in SQE2 you won't have a selection of answers to choose from; you will be expected to have the knowledge memorised and be able to apply it in a real-life scenario in SQE2. It is therefore crucial to continually revise the materials and condense your notes to keep your legal knowledge sharp, while at same time working on your skills.
Learning SQE Skills Through Practice
As important as it is to read (and re-read, and re-read), reading alone is not enough to develop the skills you will need to pass SQE2 and to practise as a competent solicitor once you qualify. For this stage of the qualification process, repeated practice through simulated exercises is by far the best way to internalise your knowledge and learn how to apply it to a specific situation.
The skills assessed in SQE2 are detailed in the marking criteria for each assessment, and include competencies such as listening and questioning, using appropriate language, maintaining client focus, and identifying key relevant facts (amongst others).

Our Superexam platform provides candidates with the opportunity to practice these skills through mock simulations, and develop other useful skills like exam techniques and stress management with guidance from our tutors. In a recent survey, over three-quarters of our past QLTS OSCE candidates stated that participating in real-time mock practice stations was the most crucial part of their SQE preparation.
Based on our SQE methodology, our mocks allow students to make mistakes and learn from them in a supportive environment.
We facilitate real-time mock stations in all of the SQE skills assessments, with personalised feedback and further guidance on any reading you might need to do to bridge the gaps in your knowledge. Our platform is built in a fully flexible modular format, rather than providing a range of fixed packages, as we understand that every candidate is unique and has varied preparation needs depending on their background, availability, and budget. Some candidates might need only a few mock sessions in particular practice areas, some might prefer to undertake up to 30 mock tests. Our approach is very flexible – you may choose as many as you need. Our mocks are very comprehensive with detailed personalised feedback, so you will gain significant learning benefits from each attempt. Whatever your specific needs are, we can provide the right number and combination. See PRICES & PACKAGES
Our SQE mock simulations are supported by an SQE community of experienced solicitor-tutors and academic assessors. Many of our tutors have already passed the QLTS assessments with the help of our training, so you can be assured that we know what you're facing and that we have the knowledge and experience to support your journey.
How To Plan Your SQE 2 Preparation
Your preparation with or without the help of an SQE course provider will obviously depend on your personal circumstances and experience. However, we cannot emphasise enough the importance of time-based planning and organisation to set yourself up in the best way from the start.
Start by figuring out how long you have until the date of your assessment (information on registration and assessment dates/times will be accessible through the SQE portal developed by SRA), and then use Google Calendar or your preferred organisational tools to manage your goal setting and map out your study plan.
Overall, your SQE prep time can be considered in two stages:
Revision/Learning: This is where you will do the bulk of your reading, and the timing for this will depend on your level of existing knowledge. Those without a legal background, or QLTS candidates who have passed the MCT, will need to start self-learning through reading books, watching lectures, taking (handwritten!) revision notes, and continually reviewing and updating them. Those with a legal background and/or who have already passed SQE 1 should still continue to revise the SQE 1 areas of law to solidify their knowledge.
Intensive Preparation (2 months): In this period, you should immerse yourself as fully as possible in your revision and practical exercises. If at all possible, you should take up to one month off work (or whatever amount of time you can manage) immediately prior to the assessment date to focus on your studies.

It is also a good idea to plan up front when you will cover each area of law. In general, our experience and surveys of past candidates has given us an indication of which areas of law require the most time for preparation:
Business law requires the most time. This is a sizeable area of law with a lot of concepts to memorise.
Criminal litigation and dispute resolution also require a significant amount of time. There are a lot of concepts in these practice areas, and you should also familiarise yourself with Civil Procedure Rules (CPR) and study the actual authorities rather than just academic books.
Finally, property practice and wills/probate law generally require the least amount of time.

Be sure to practice as much as possible during all stages of your SQE2 prep. Practical SQE mock simulations, ideally under exam conditions, are the best way to apply your knowledge in different scenarios and instill it into long-term memory.
You can tailor your preparation and practical mocks to your specific needs through our Superexam SQE platform. Our training approach is based on our years of experience and research into learning strategies and the QLTS/SQE assessments.
We firmly believe that our Smart Methodology ultimately converts candidates into smart solicitors. Our one-of-a-kind SQE platform is fully flexible; it is possible to purchase mock stations individually or to avail of discounts on bulk purchases.
In particular, we would recommend scheduling some legal writing, case and matter analysis, client interviewing and advocacy mock sessions, as these stations thoroughly assess your legal knowledge in the various practice areas. We are happy to advise on a combination of mocks to suit your needs, so please don't hesitate to contact us with any questions.
Remember, it is up to you to do the reading and revision, and to develop your skills through as much real-life practice as possible. We are here to facilitate your learning and support you on your journey to qualifying as a solicitor. Take charge of your SQE preparation and start your career path on the best foot by reaching out to us today.