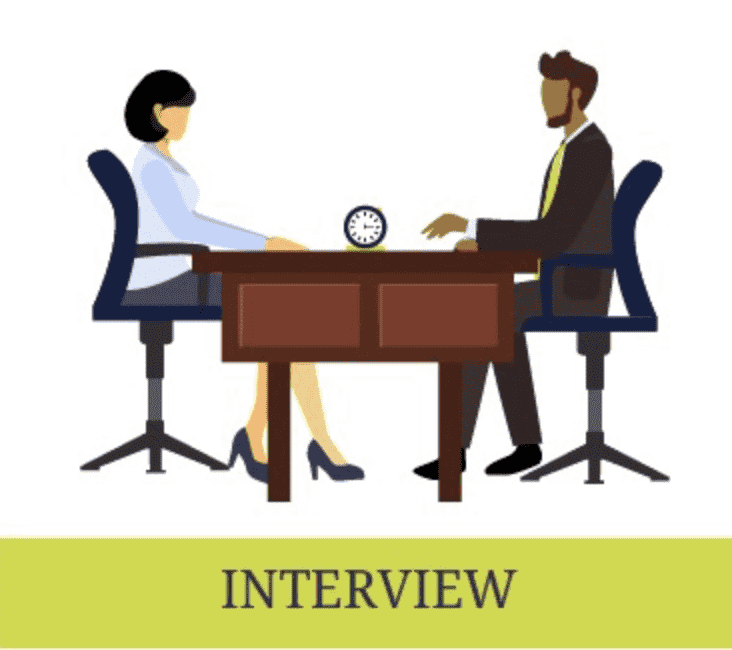 The client interview and attendance note/legal analysis comprise one SQE2 assessment with separate oral and written components. In the exam, candidates will be given an email or brief from their "partner" or "secretary" outlining the issue the client needs advice on, sometimes accompanied by other supporting documents.
SQE Client Interview: timing
Candidates will have 10 minutes to look over these documents before the interview starts. The interview itself takes 25 minutes, followed by a further 25 minutes to write the attendance note and legal analysis.

The new SQE exam or "superexam" is closely based on the QLTS assessments for foreign-qualified solicitors. The SRA conducted the first SQE2 pilot (based on the QLTS OSCE) for pilot candidates in December 2019. We have been training foreign-qualified solicitors for the OSCE since early 2018. Over this three year period, we have been the only training provider offering real-life simulations for this exam, with consistently positive feedback from our students. Our experience tells us that candidates learn better and retain more knowledge by doing, rather than just reading. Knowledge learned from books can dissipate if the student does not actively apply it to real-life contexts. Our practical SQE mock sessions offer students the ability to analyse and apply their knowledge of the law to real-world scenarios, which truly helps to solidify and internalise their learnings.
Moreover, our past OSCE students were already qualified and highly skilled solicitors in foreign jurisdictions, which has also given us the opportunity to further build our own learning and training methods from their experience and knowledge. We have consequently built up extensive expertise on the format of the SQE client interview, the skills that candidates need to master, and how to write an effective attendance note.
SQE Client Interview: skills
The client interview is one of the most challenging assessments in the SQE2 exam. You might think that after you've passed the SQE1 multiple choice questions and demonstrated your functioning legal knowledge, the interview will then be a walk in the park. Trust us: it is not as easy as that. Client interviewing is a crucial aspect of working as a solicitor, and involves much more than just your knowledge of legal concepts. To conduct an effective interview, you need to be skilled in active listening, relationship building, fact finding, time management, and even stress management.
Candidates must complete two client interviews in the SQE Two assessment. Each SQE interview is conducted by a layperson (not a solicitor), who then assesses the candidate on the following non-legal SQE skills:
Listening and astute questioning to identify the client's concerns
Communicating and explaining legal issues in "plain English" that the client can easily understand
Maintaining a professional manner and respect for the client
Demonstrating a focus on the client and their concerns and objectives, rather than a general legal perspective
Establishing an effective trust-based relationship with the client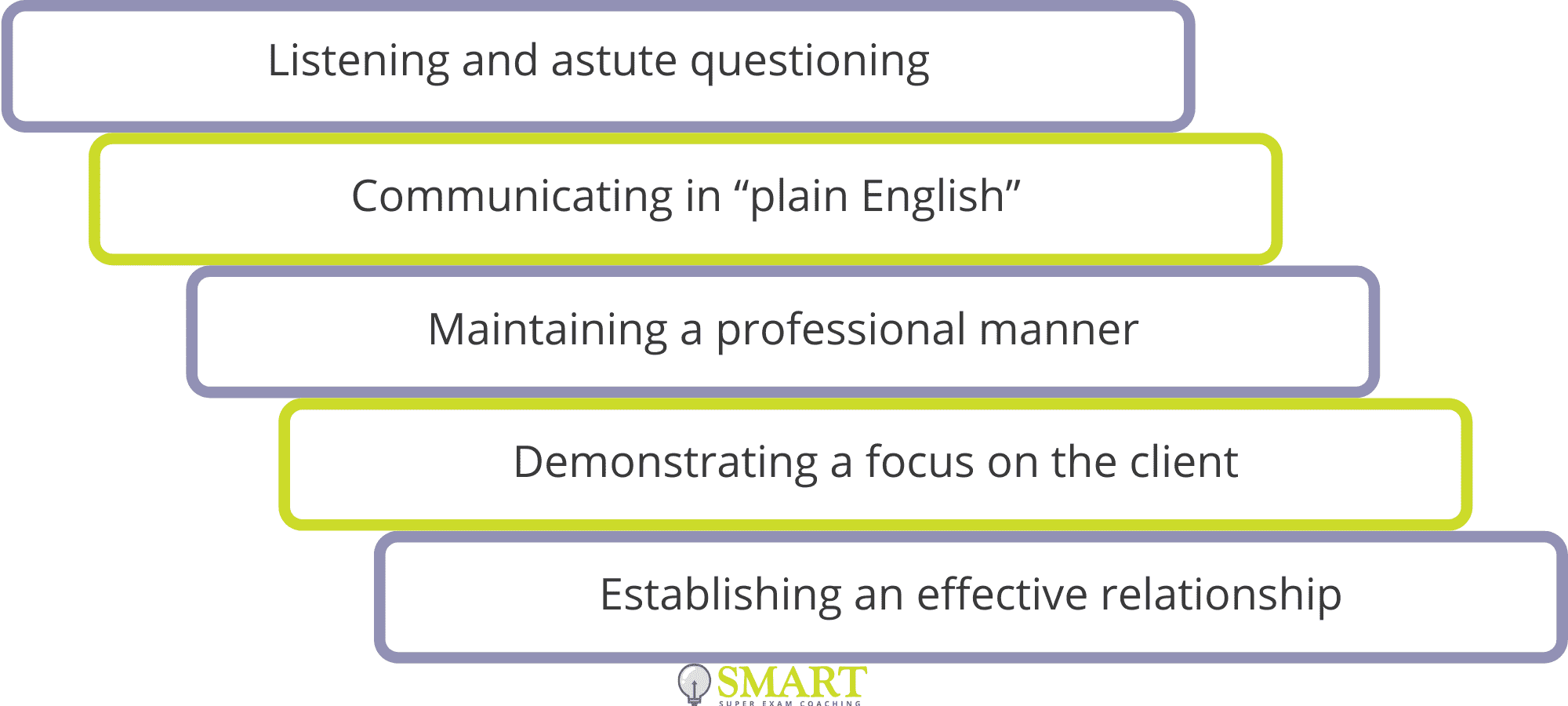 During the interview, candidates playing the role of a solicitor must identify and document the concerns of the client, keeping in mind that the client may verbally provide additional concerns or facts that have not been included in the initial brief. You will therefore need to listen carefully to the client and look out for any further information that may affect your legal analysis and advice. It is also possible that you will be dealing with a "difficult" client who is hard to communicate with.
With limited time to build a trust-based relationship, gather all the information, analyse the details against your legal knowledge, and determine the next steps to be followed, this is indeed a challenging, high-pressure assessment. Therefore, we highly recommend practicing as much as possible through real-life SQE mock simulations to build up the SQE skills and knowledge required to pass this stage of the examination and get one step further in your goal to qualify as a solicitor in England and Wales.
SQE Client Interview: mock station
We offer SQE mocks training where candidates can conduct an interview under exam conditions with personalised feedback. Experienced actors and academics will play the role of the client, from "easy" friendly clients to the more difficult clients with more challenging personalities. Our interviewers are well versed in the format and requirements of the SQE assessment, so our mock interviews are very close to what candidates will experience during the actual exam.
Through our Smart platform, candidates can book a mock SQE station for a specific area of law at a date and time of their choosing. This mock session lasts 45 minutes, with 25 minutes for the interview and 15-20 minutes for personalised feedback on the candidate's performance.
Our mock interviews are performed in an exam setting, but without the exam pressure. The SQE mock exam is approached in a fun, game-solving way, where you can challenge yourself to identify and collect information on all the facts that the client has. Feedback is given in a constructive, supportive manner with the aim of identifying the skills you need to improve upon.
After working on these skills, we recommend conducting another mock interview to assess how well you have improved. We offer discounts on bulk purchases where clients can book multiple SQE mock stations and schedule in advance, which enables candidates to pick the best slots to suit their own study schedule. You can also book individual sessions on a "pay as you go" basis if you prefer to try it out before opting for the bulk package. Conducting several mock interviews means that you can not only build up the skills you need, but also improve your legal knowledge through the application of your learnings in realistic scenarios. SQE mock simulations will also help you become more and more familiar with the format of the interview, which can significantly reduce the stress of the actual SQE assessment.
SQE Attendance Note/Legal Analysis: timing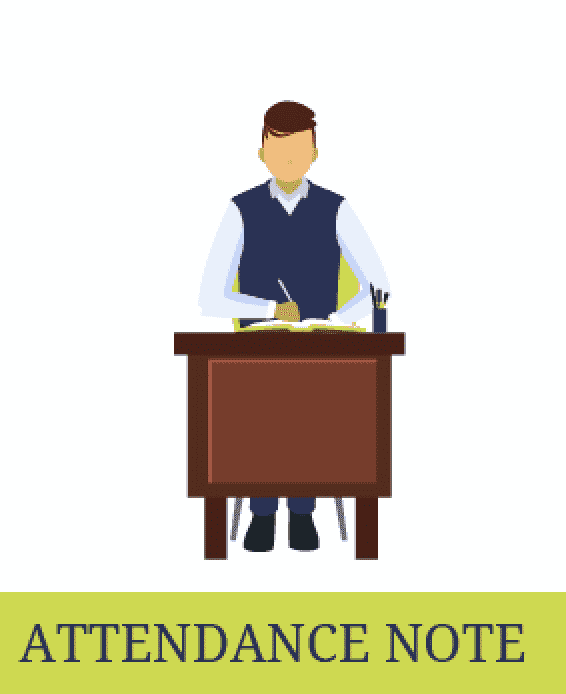 After conducting the SQE interview, candidates must then write up an attendance note with full legal analysis. This element of the assessment is also very difficult, as there is quite a lot of information and analysis to include, in a relatively short window of time (25 minutes).
In the real world, an attendance note would usually just be a summary of the facts gathered in the interview and the time engaged by the solicitor. However, for the purposes of the SQE, the note must also include an in-depth analysis and application of the legal concepts to the scenario. The SQE attendance note is also handwritten, which can be a challenge in itself in this digital era!
SQE Attendance Note: skills
Unlike the client interview, in which only non-legal skills are assessed by a layperson, the attendance note is assessed by a qualified solicitor based on both skills and legal knowledge:
SQE skills:
Recording all relevant information
Identifying appropriate next steps
Providing client-focused advice
SQE law:
Applying the law correctly to the client's situation
Applying the law comprehensively, including identifying and addressing any ethical or professional conduct issues.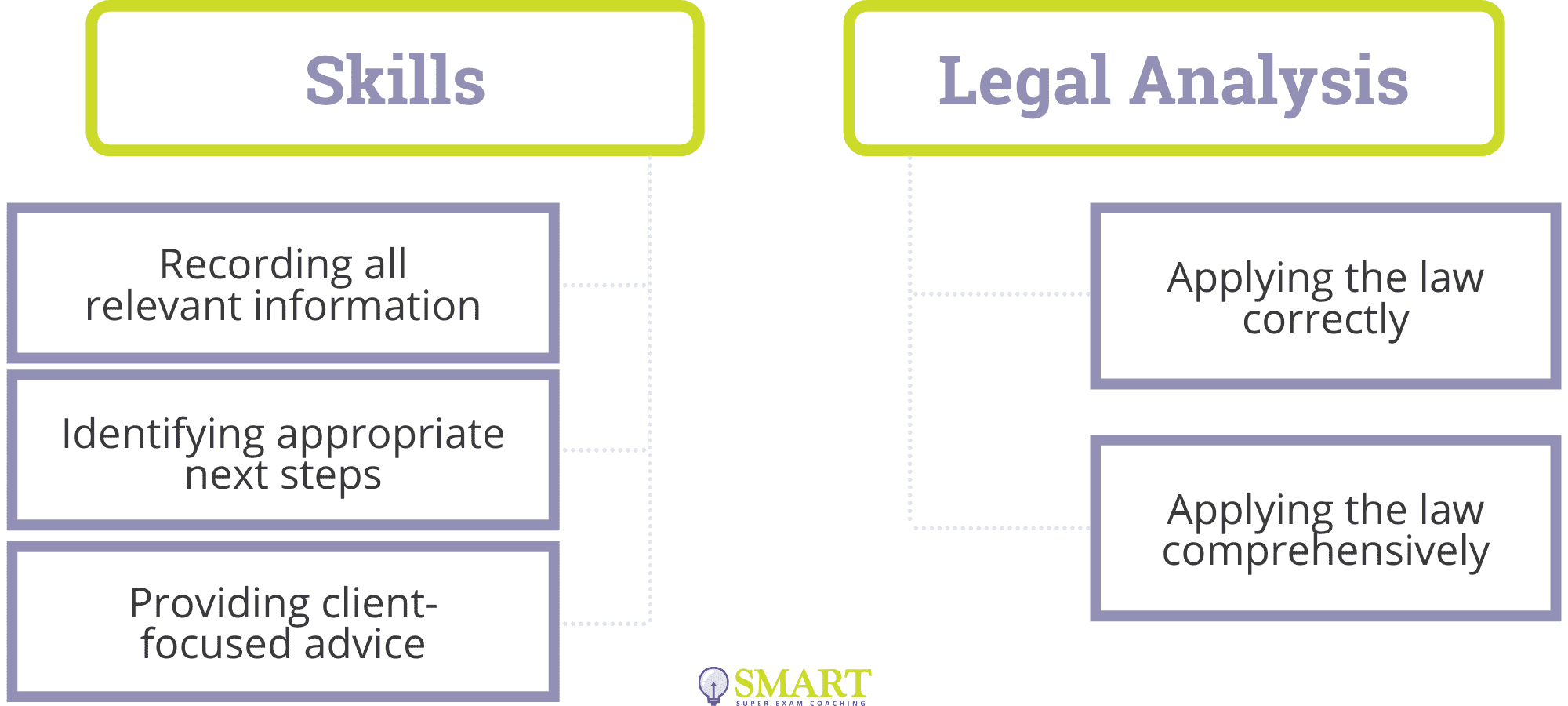 Attendance Note: practice with OSCEsmart
Through our history of training solicitors to pass the QLTS OSCE, we have built up extensive knowledge about what to include in the SQE attendance note, as well as strategic tips and advice for how to approach this task in an efficient manner.
Our Smart training service includes two options:
You can book an SQE mock interview and submit your own attendance note/legal analysis. We then manually review your answer and assess how well you have understood the issues and related areas of law, and how you have applied the law in your legal advice to the client. This is not a check-box exercise on our side; a real solicitor who has already passed the QLTS OSCE takes the time to read your answer, provide feedback, and (if needed) highlight any areas of improvement and suggestions for further reading.
You can book an SQE mock interview and then receive a suggested answer for the attendance note/legal analysis. This option is cheaper, but please keep in mind that this may actually limit your own ability to apply the law to the issues raised in the interview. In real life, there are no "suggested answers" and the law can be analysed and applied in different ways. We would therefore strongly recommend that you choose the first option at least once and make the effort to write your own answer to build up your legal knowledge and analysis skills.
Preparing for SQE Interview, Attendance Note, Legal Analysis
In SQE2 prep, it is important for candidates to prepare well in advance of these assessments. Through our Smart training platform, we offer a lecture, video examples, and a reading and revision schedule in conjunction with the practical SQE mock stations. Discounts are available on bulk purchases. Sessions can also be supplemented by additional tasks, which are free of charge and fully optional if you would like to challenge yourself further. If you do choose to submit answers for these tasks, you will then gain access to our bank of answers submitted by previous students, which are available under a Creative Commons licence.
In addition to SQE mock simulations, we have also developed a new Legal Theatre offering, where aspiring solicitors can view a live stream of a client interview and receive a suggested answer for the attendance note. Again, we would highly recommend that students conduct their own mock interviews through our simulations, as this is simply the best way to learn and internalise the legal skills to pass this assessment, but watching a Legal Theatre interview can be a useful way to see how the interview is conducted.
However you choose to study and prepare for the SQE assessment, we strongly recommend including our SQE2 mocks with simulated scenarios in your plan. These SQE mock stations not only help to improve your skills, but are also a fantastic tool for assimilating your knowledge of the law. Reading and continuous revision is, of course, very important, but that knowledge doesn't "stick" easily in your head unless you apply it to real-life scenarios. Through our experience, we have learned the most common areas where candidates can get "stuck" and we focus on testing these areas in a fun, effective, and supportive manner. With personalised feedback and recommendations for further reading from tutors who have already succeeded in passing the QLTS OSCE, these mock sessions are truly the best way to learn all you need to pass the SQE.
Our past students have told us that our simulated stations not only helped them to pass the OSCE assessment, but also helped them in their actual practice. In the real world, you won't always know how exactly a client feels after an interview, or what they thought about you and/or your advice. With immediate feedback, the Smart mock interviews give solicitors the chance to see this process from the client's point of view, which will be a beneficial perspective when it comes to real-life practice.
There are a variety of preparation courses being developed to help candidates pass the SQE assessments. Our Superexam platform offers flexible modules to suit your schedule and budget, with a combination of mock SQE stations, lectures, live stream simulations, training materials, and sample answers. We understand that every candidate is unique in terms of their existing skills, knowledge, objectives, and life circumstances. With that in mind, we have chosen not to offer strictly-defined packages – instead, you are free to tailor your own SQE preparation by choosing any combination of modules covering whatever skills and/or areas of law you need to focus on. We can, of course, recommend a certain combination of mocks depending on your background, so feel free to reach out to us for advice.
You can buy individual SQE mock sessions on a "pay as you go" basis with prices starting at £70, or avail of discounts on bulk purchases.
Our tutors have extensive experience, knowledge, and enthusiasm to support and guide you on your journey to qualifying as a solicitor in England and Wales.