In the ever-evolving world of law, proficiency in Legal English is vital for international lawyers. English law, with its rich history and influential legal systems, plays a significant role globally, especially in the field of commercial law and business dealings. This makes it essential for legal practitioners to have a strong command of Legal English.
At OSCEsmart, we understand the fundamental importance of mastering Legal English as the foundational step in preparing for the Solicitors Qualifying Examination (SQE). If you find yourself facing challenges with English legal language skills for the SQE or encounter other related concerns, our course is precisely tailored to address these needs and provide a solution.
Learn Legal English with OSCEsmart
The Legal English Course offered by OSCEsmart is a comprehensive programme. Its aim is to enhance participants' proficiency in using English within the legal context. It caters to legal professionals, law students, and anyone interested in improving their English legal language. Moreover, it serves as a pre-course for the SQE1.
Our online Legal English course is specifically designed to assist candidates with limited English proficiency in preparing for the SQE1. We have successfully offered this course since November 2022. The outcome has been outstanding, with our students seamlessly transitioning into their SQE1 studies.
Course Structure and Legal English Course Syllabus
The course is split into three units. Each unit focuses on different areas of legal knowledge.
Unit I: Contract Law
– Topics include elements of a contract, privity of contract, types of terms, incorporation of terms, enforcement of contracts, breach of contract, and boilerplate clauses.
Unit II: Law of Tort
– Covers the nature of tort, duty of care, breach, causation, remoteness, defences and remedies, nuisance, occupiers' liabilities, personal torts, and economic torts.
Unit III: Business and Commercial Law
– Explores business media, incorporation, decision-making, banking, loans and charges, taxes and accounts, safety regulations, employment contracts, termination of employment, and private acquisitions.

Each unit includes:
four video lectures,
three online study sessions,
a list of legal terms, and
a set of flashcards for each lecture.
Video Lectures
A video lecture is a multimedia presentation in which an instructor provides an in-depth explanation of legal topics in English. Subtitles are available for non-native English speakers and those who benefit from visual aids. The lectures are structured as Assignments within the platform, each corresponding to a specific set of lectures. These Assignments include links to the lecture videos, a list of terms to study, details of online study sessions, and specified time limits for reviewing and studying the materials.
Live Online Study Sessions
Online study sessions are conducted by experienced OSCEsmart tutors. They occur every other weekend and involve collaborative discussions among a small group of students (usually no more than 5). Participants summarise lecture materials, engage in discussions to clarify uncertainties (15-20 min) and participate in educational games (40-45 min). These sessions ensure a high level of instruction and support for participants.
Lecture Materials. Each study session is accompanied by a PDF containing a list of terms covered during the lecture. Students are responsible for printing this PDF and providing definitions for the terms following the lecture.
Flashcards. OSCEsmart utilises Quizlet's digital flashcards as a learning tool. These flashcards contain terms and their definitions from the lectures.
Gamified Approach. The tutor privately provides a numbered list of terms (typically 1 to 5) and selects a student to start. The chosen student must explain term No1 within a specified time frame.
If they can't, the tutor steps in with the explanation, and only students who answer correctly earn a point. The tutor acts as a moderator, providing corrections and awarding points.
English Course For Legal Professionals Online: Programme
Our English course for legal professionals consists of three rounds:
Round I: Access to 12 lectures, three online study sessions, and a 30-question test with a maximum score of 50 points. Successful completion earns a 1st round legal English certificate.
Round II: Three online study sessions followed by a 40-question test covering the terms learned in Rounds I and II (max score: 80 points), leading to a 2nd round certificate upon completion.
Round III: Three online study sessions followed by a final 50-question test on the terms learned in all three rounds (max score: 100 points), and a course completion certificate for meeting requirements.
Cost
One lecture and one online study session cost £30. Therefore, the price for the full online course with 9 online study sessions and 12 lectures is £350. We are here to guide you on how to learn Legal English effectively.
Legal English: Meaning
International legal English is a study that combines elements of both law and language disciplines. It often includes a case study and various examples of legal English. Students are expected to engage extensively with a legal English dictionary.
The comprehensive legal English courses, based on the classical UK study programme, offer you the following possibilities:
improve your legal English vocabulary,
read and understand legal documents in English including the original documents,
develop legal English writing and contract drafting skills,
preparation to enrol on law courses in the UK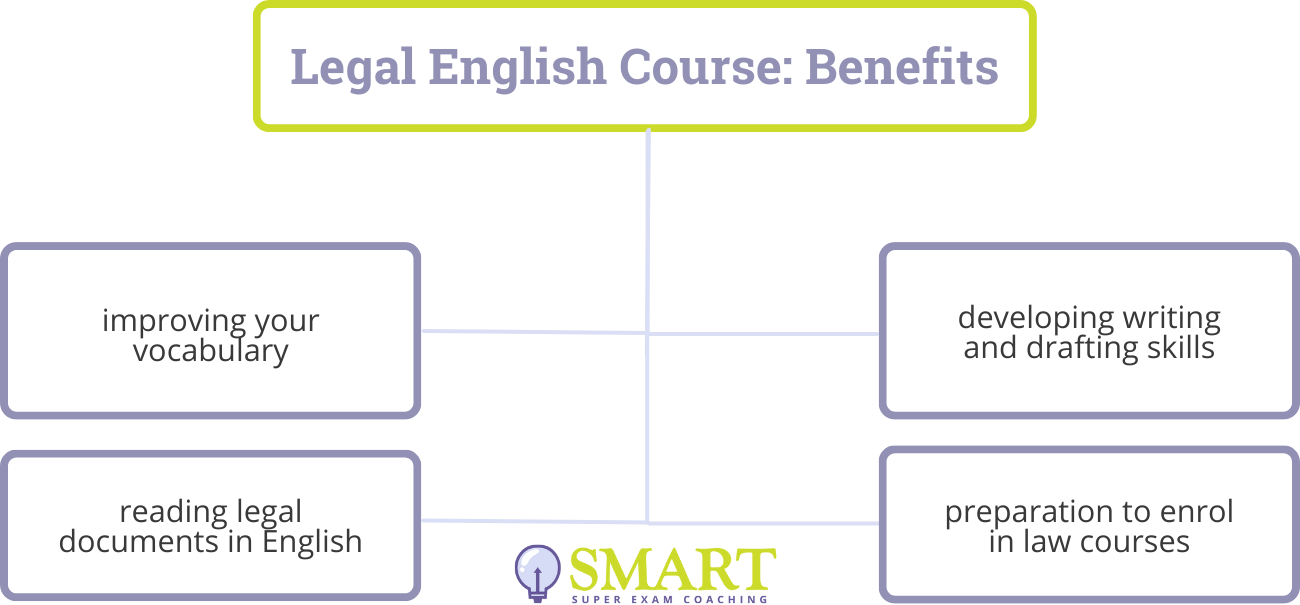 One effective way to enhance your legal English skills is by enrolling in an intensive Legal English course online. To explore such, simply search "legal English course UK" or "English for lawyers" and discover a wealth of educational resources.
There are many English courses for legal professionals online. One notable certification that can enhance your legal English credentials is the Test of Legal English Skills (TOLES), particularly the TOLES foundation level. This internationally recognized legal English exam assesses various aspects of legal English, including comprehension of English legal terminology. It also evaluates the ability to write legal documents in plain English legal language.
Cambridge Legal English courses are highly regarded for their comprehensive approach to teaching legal English. They cover essential aspects such as English for legal professionals, English legal documents, and legal writing in plain English.
If you're a lawyer translating legal documents, your knowledge of legal English will be instrumental in ensuring professional translations. This is especially important when the target language involves intricate legal terminology and concepts.
Conclusion
In the legal profession, the ability to communicate clearly and effectively in advanced legal English is an essential asset. By enrolling in our English Course for Lawyers and Legal Professionals Online, you can gain the necessary skills and knowledge. This will enable you to excel in your legal English test.
Whether you are a law student or an experienced lawyer, investing in your Legal English proficiency is a wise decision. Study smart!