By Mathieu Quenin and Olga Pogrebennyk
Solicitor's qualification in England and Wales has undergone a remarkable transformation, becoming more accessible, flexible, diverse, and affordable. Gone are the days when aspiring solicitors were confined to traditional educational institutions as the sole providers of training. Now, a plethora of online courses are available, catering for a wide range of learning styles and preferences.
In this article, we embark on an exciting exploration of various options available to those preparing for the Solicitors Qualifying Examination (SQE) in the UK. Our focus today is SQE1 online lectures available on the Superexam platform, with a subsequent article to be published delving into the SQE2, both providing valuable insights and recommendations for each SQE assessment.
SQE1 Prep – Cracking the Code of Multiple-Choice Questions with Superexam
The SQE1 exam evaluates functional legal knowledge in subjects typically taught at LLB and LPC levels. This assessment consists of single select multiple-choice questions, where candidates must choose the best answer from the provided options. Each question presents a concise and practical scenario, mirroring real-life situations that solicitors often encounter in their practice.
Preparing for the SQE with Superexam requires two essential stages:
Knowledge Stage: During this phase, aspiring solicitors must focus on acquiring a comprehensive understanding of the law, committing it to memory, and addressing any remaining knowledge gaps.
Practice Stage: At this stage, SQE candidates should actively participate in activities that simulate the actual SQE1 assessments. This includes familiarising themselves with the structure and format of the SQE1 exam, understanding the exam functionality on Pearson VUE, and, most importantly, practising multiple-choice tests to refine their skills and boost their confidence.

By diligently following these two stages of preparation, candidates can effectively assess their readiness to sit the SQE1 exam.
Superexam's Engaging SQE Live Lectures
To facilitate SQE exam preparation, we have introduced a series of live-streamed lectures on our Superexam platform. These engaging SQE lectures are strategically designed to address specific stages of the SQE preparation and can be conveniently scheduled in advance.
The key features of our SQE lectures include:
Collaborative Approach: Each lecture is conducted by two experienced SQE tutors who work in tandem to provide comprehensive coverage of the exam content. Their combined expertise creates a rich and diverse learning experience for students.
Expert Guest Speakers: We believe in going beyond textbooks and theory. That is why lectures are conducted by practising solicitors, thus fostering valuable discussions and offering real-world insights into legal practice. Their presence brings the profession closer to aspiring solicitors, bridging the gap between academia and the practice.
Visualised Slides and Concise Notes: Our lectures feature highly visualised slides that serve as concise and structured notes for the SQE syllabus. This format enhances memorisation and facilitates a deeper understanding of complex legal concepts. We understand that visual aids have the power to make learning more engaging and memorable.
Interactive Learning: We firmly believe that learning should never be a passive experience. Our SQE lectures adopt a highly interactive format, ensuring learner engagement and attention retention. We employ simple explanations and practical examples to simplify complex concepts, making them accessible and relatable.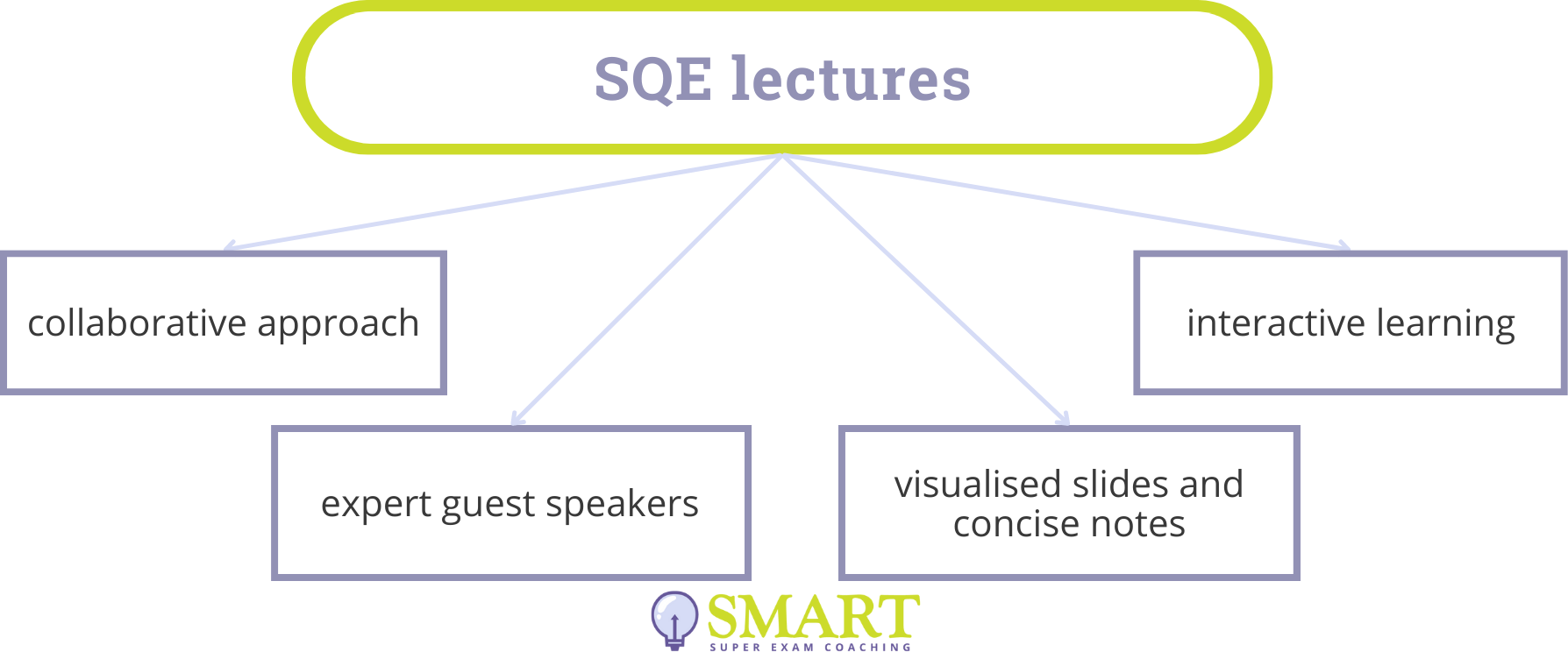 By actively participating in our SQE lectures, aspiring solicitors gain access to an engaging and effective learning experience that enhances their knowledge of the SQE exam content:
Analysis and Insights for Exam Success: During these lectures, we go beyond the theoretical aspects of the SQE exam. Drawing upon our own experiences of successfully passing the exam, we provide valuable insights and practical advice to help aspiring solicitors navigate the challenges they may encounter. By analysing sample questions from the SQE1, we bridge the gap between theory and application, enabling students to grasp the nuances of the exam and develop effective strategies for success.
Recommended Resources for Practice: Additionally, we provide recommendations for various resources where aspiring solicitors can practise SQE1 multiple-choice questions (MCQ tests) available online. These include practical study tools like OUP SQE Prep & Practice.
Recorded Lectures and Convenient Access: To ensure flexibility and convenience, all our lectures are recorded in video format and organised into specific topics. These recordings, along with supplementary materials and SQE notes, are easily accessible through our online library. As part of our teaching approach, we strongly encourage students to watch pre-recorded lectures before attending the live stream. This proactive step allows students to familiarise themselves with the content in advance, ensuring they come to live sessions prepared and ready to actively engage.
Personalised Approach and Enhanced Learning: We believe in tailoring the learning experience to the individual needs of our students. To achieve this, we provide a dedicated tool on our learning and training platform, allowing students to ask questions in advance. This proactive engagement enables our mentors to better prepare for upcoming lectures, addressing specific problem areas and catering to the unique needs of each student. By fostering a personalised approach, we create a focused and tailored learning experience, ensuring maximum benefit for every student.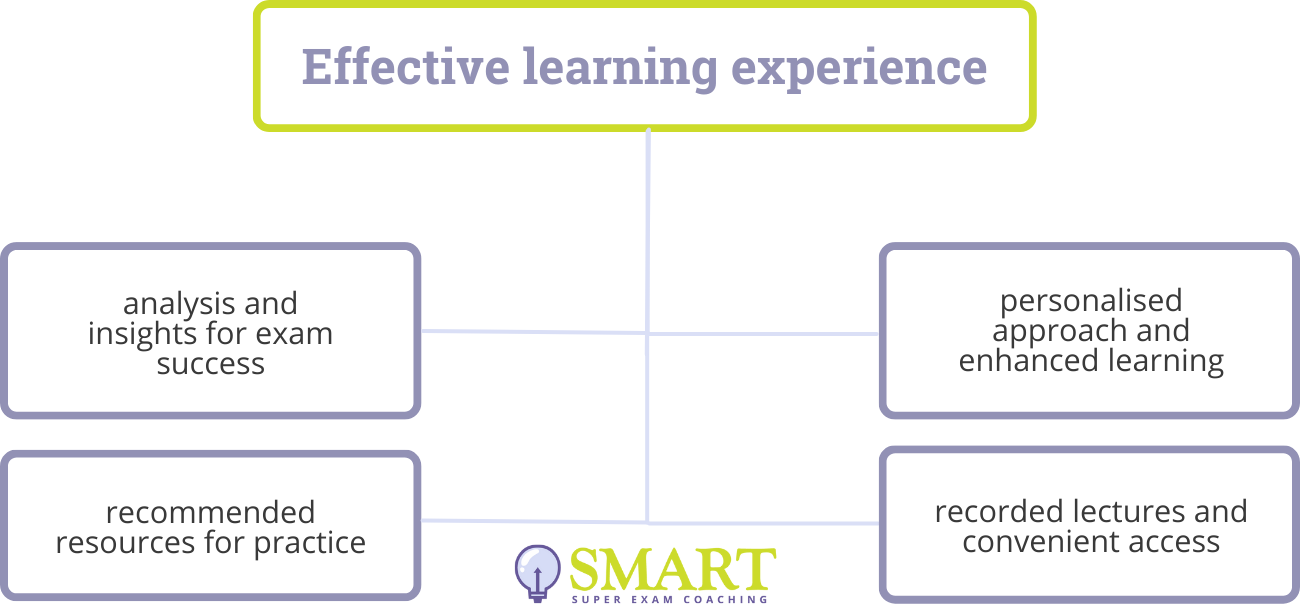 Dispelling Fears and Embracing Superexam's Online Learning Potential
Online education often faces unwarranted prejudice and superstitious views, especially from proponents of traditional teaching methods, such as in-person lecturers in UK universities.
It is understandable that traditional education providers may perceive online schools as threats to their existence, thus tending to undermine or discredit the efficacy of online education. However, it is crucial to question whether this scepticism truly helps address the challenges faced by "edu-traditionalists." After all, this issue extends far beyond the SQE and applies to online education as a whole.
Online education comes in various forms, ranging from passive self-paced learning platforms to highly interactive SQE courses. It is important to recognise that online learning is merely a method of connection, and it brings along numerous advantages:
Access to Top Tutors Regardless of Location: Online education breaks geographical barriers, granting access to expert tutors from around the globe. No longer confined by physical proximity, aspiring solicitors can learn from the best minds in the field.
Convenient Content and Meeting Management: Online education offers unparalleled convenience. Course materials are accessible anytime, anywhere, allowing students to tailor their learning schedule to their individual needs. Additionally, virtual meetings and discussions can be easily organised, eliminating the need for commuting.
Cost-Effectiveness: Online courses often come at a fraction of the cost of traditional educational programs. This affordability enables more individuals to pursue their dreams of becoming solicitors without the burden of exorbitant fees.
Combination of Different Learning Formats: Online education harnesses the power of various learning formats, including pre-recorded lectures, live seminars, and one-to-one tutoring. This diversified approach caters to different learning styles, ensuring that each student can thrive in their unique way.
Application of New Technologies: Online education embraces cutting-edge technologies like virtual and augmented reality, as well as artificial intelligence, enhancing the learning experience and preparing aspiring solicitors for the digital age.
Accessibility and Learning Opportunities: Online lectures offer increased accessibility and flexibility for students. They can easily revisit and review specific parts of the lecture through video recordings available in the library. This enables students to reinforce their understanding and cater to their individual learning pace.

Drawing upon our five years of experience in assisting hundreds of candidates in qualifying as solicitors, we are proud to be at the forefront of 100% online training and coaching for the QLTS and SQE exams. Our mission is to share our valuable experience with the UK legal and educational communities.
Our Project at Superexam
Both authors of this article actively participate in the SQE live lecturing mentioned above. In addition to providing guidance through the lectures, we have established this course as an emergency program for Ukrainian lawyers, many of whom may have limited proficiency in English. Furthermore, aspiring solicitors from diverse jurisdictions such as the UK, USA, UAE, and China have also joined our SQE1 study groups.
Our project extends beyond lecturing and includes an experimenter who facilitates in-depth research. We are committed to regularly publishing the results of our research in the Research section of our SQE blog, and we encourage anyone interested to reach out to us.
One of our primary goals is to develop a user-friendly online SQE preparation programme specifically tailored for aspiring solicitors from other jurisdictions. These may be foreign lawyers with or without legal practitioner qualification, and foreign law students seeking to become UK solicitors. Unlike its predecessor (the Qualified Lawyer Transfer Scheme or QLTS), the SQE is now available to foreign law students and law practitioners who have not yet been formally qualified in their respective jurisdictions.
A mandatory requirement for foreign candidates is a degree in any subject that can be obtained even after successfully passing the SQE. This provides access to a legal career without the prerequisite of an undergraduate law degree, to candidates from diverse non-law backgrounds. Such flexibility allows a wider range of candidates to combine legal studies with their existing professions.
Furthermore, those who pass the SQE exams and successfully obtain the status of an EU lawyer may apply to be admitted as solicitors in Ireland, which is a straightforward process and does not require passing any additional exams.
All of the above would not be possible if we relied solely on traditional in-person lecturing – at the very least, it would be extremely expensive to arrange. By embracing online methods of delivery, we can leverage the advantages offered by technology and provide an efficient and effective learning experience for students.
Conclusion: Superexam Is Your Gateway to Success
Online SQE1 preparation course offers numerous advantages, including cost efficiency, flexibility in audience, enhanced technical tools and interactivity, and increased accessibility and learning opportunities.
The key lies in harnessing the potential of online education, embracing new technologies, and creating a supportive and interactive learning environment. Through our Superexam platform and online lectures, we are committed to providing aspiring solicitors with the best possible preparation for the SQE1 exam, ensuring their successful journey to becoming qualified solicitors in England and Wales.