The Solicitors Qualifying Examination (SQE) is the result of a momentous reform process undertaken by the Solicitors Regulation Authority (SRA) to standardise the process for qualifying as a solicitor in England and Wales. Through this new regime, effective from September 2021, candidates need to obtain a degree in any subject, pass the SQE1 and SQE2 assessment stages, complete two years of qualifying work experience (QWE), and meet character and suitability requirements to qualify.

This new process makes the qualification process much more affordable and accessible for domestic candidates and foreign-qualified lawyers, and is also hugely appealing for international students looking to pursue a career in law. Obtaining a solicitor qualification in England and Wales offers significant benefits for aspiring solicitors from other countries.
This is especially true for students from common law jurisdictions. The legal systems of many countries around the world, including Scotland, Ireland, the United States of America, Canada, Australia, India, Hong Kong, and Singapore, are based on common law (or case law). This means that precedent (historical judgements) plays a significant role in the decisions made by courts in cases that may not fall neatly under written legislation. This system of law originated in England and spread to other jurisdictions over the last few centuries through British colonialism.
As English law can therefore be considered the "mother" of all common law systems, qualifying as a solicitor of England and Wales gives lawyers a much broader understanding of the legal system in any common law country.
Why should international students take the SQE?
There are two main reasons why overseas students might consider taking the SQE to qualify as solicitors of England and Wales as opposed to qualifying in their domestic jurisdiction:
Enhanced career opportunities
Easier qualification process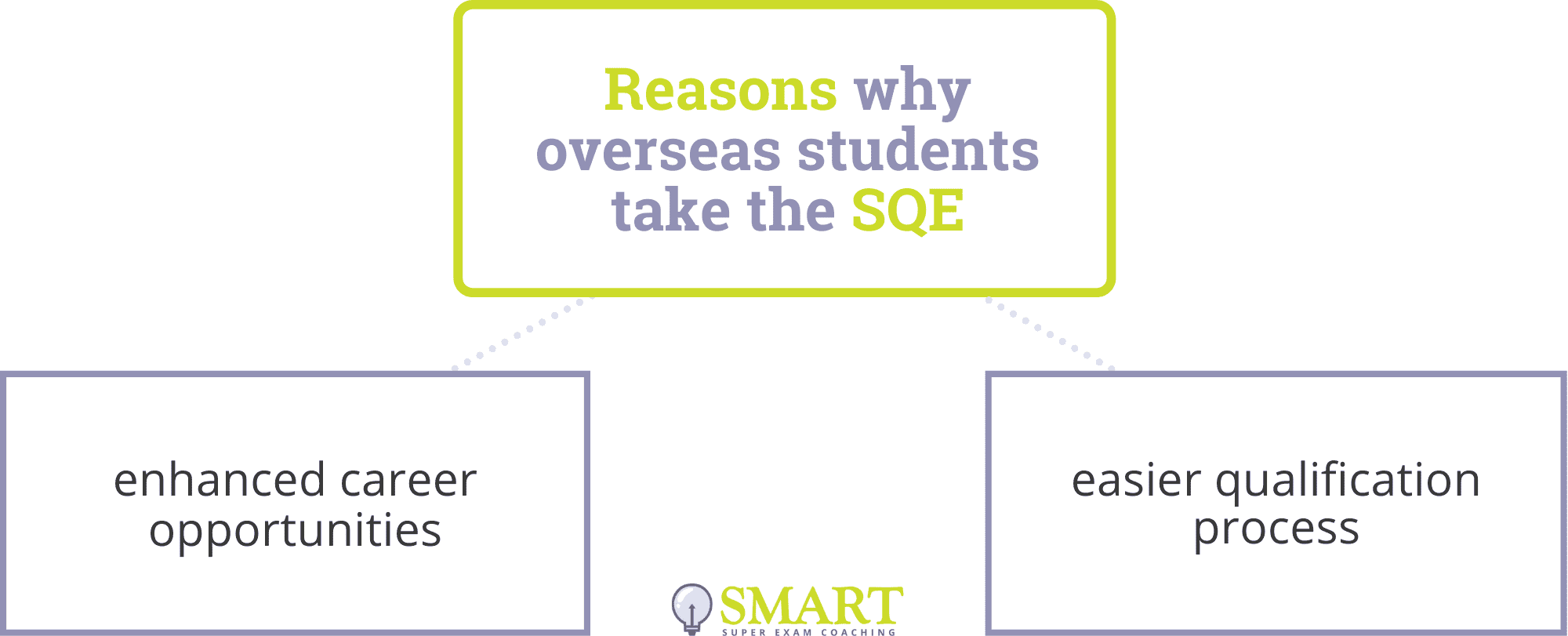 Career benefits
If you are still studying, your main focus is probably on simply obtaining your qualification, wherever you are based. However, after qualifying and starting to practise law, your focus can then shift to your career path and professional growth, and you may start to think about expanding your qualification to other jurisdictions or specialties. It can be difficult, though, to go back to studying at this stage in life. You may have started a family, you may be working full-time, and it can be challenging to juggle your studies around such a hectic schedule. It can also become increasingly difficult to learn new knowledge and skills at an older age. While it is not an absolute truth that "you can't teach an old dog new tricks", the fact is that neurons shrink and the number of connections between brain cells declines with age, which can affect memory and learning ability.

Starting your career with a qualification in England and Wales gives you a much wider range of opportunities and options from the very beginning, rather than focusing your qualification in your home jurisdiction and then trying to later expand into other jurisdictions.
Many of the biggest law firms in the world are located in London, and English law underpins most international transactions and dispute resolution. International lawyers with a qualification in English law are therefore in demand, not just in England and Wales, but in law firms and business organisations all around the world.
Obtaining a dual qualification opens up even more doors for practising solicitors. While the initial qualification process in countries such as France, Italy, Singapore, or Hong Kong can be arduous, the process of converting an existing qualification to another jurisdiction may be more achievable. So, for example, French students may choose to qualify as solicitors of England and Wales through the SQE and then convert their qualification to their domestic jurisdiction. This provides the opportunity to practise in locally-based firms or businesses conducting international transactions where knowledge of English law will be highly beneficial and desirable. As an international student, depending on where you are based, it is certainly worth exploring the possibility of converting a UK qualification to your domestic regime when choosing your next steps.
Easier to qualify
Another reason for taking the SQE route to qualification is that it is, in some respects, much easier than qualifying in other countries.
It is important to note that "easier" does not mean "easy".
The SQE is still an extremely rigorous, comprehensive set of assessments and candidates need to have a thorough understanding of the law as well as expertise in the skills that are assessed in order to pass these exams. However, some of the more challenging aspects of the qualification process have been addressed by the SRA in its pioneering reform.
Solicitor qualification process reform and the advantages of SQE
The overhaul of the solicitor qualification process from the Legal Practice Course (LPC)/training contract regime to the SQE route is nothing short of groundbreaking. Historically, in England and Wales, the process of completing a qualifying law degree and then the LPC was quite lengthy and expensive for aspiring solicitors. It was also extremely difficult to secure a two-year training contract in a very competitive landscape, which meant that even candidates who had finished the academic stages of qualification could not complete the process if they were unable to obtain a training contract. Other jurisdictions may have similar barriers in place to completing the qualification process.
The novel SQE approach has several distinct advantages over the traditional route to qualification and the route to qualification in other jurisdictions: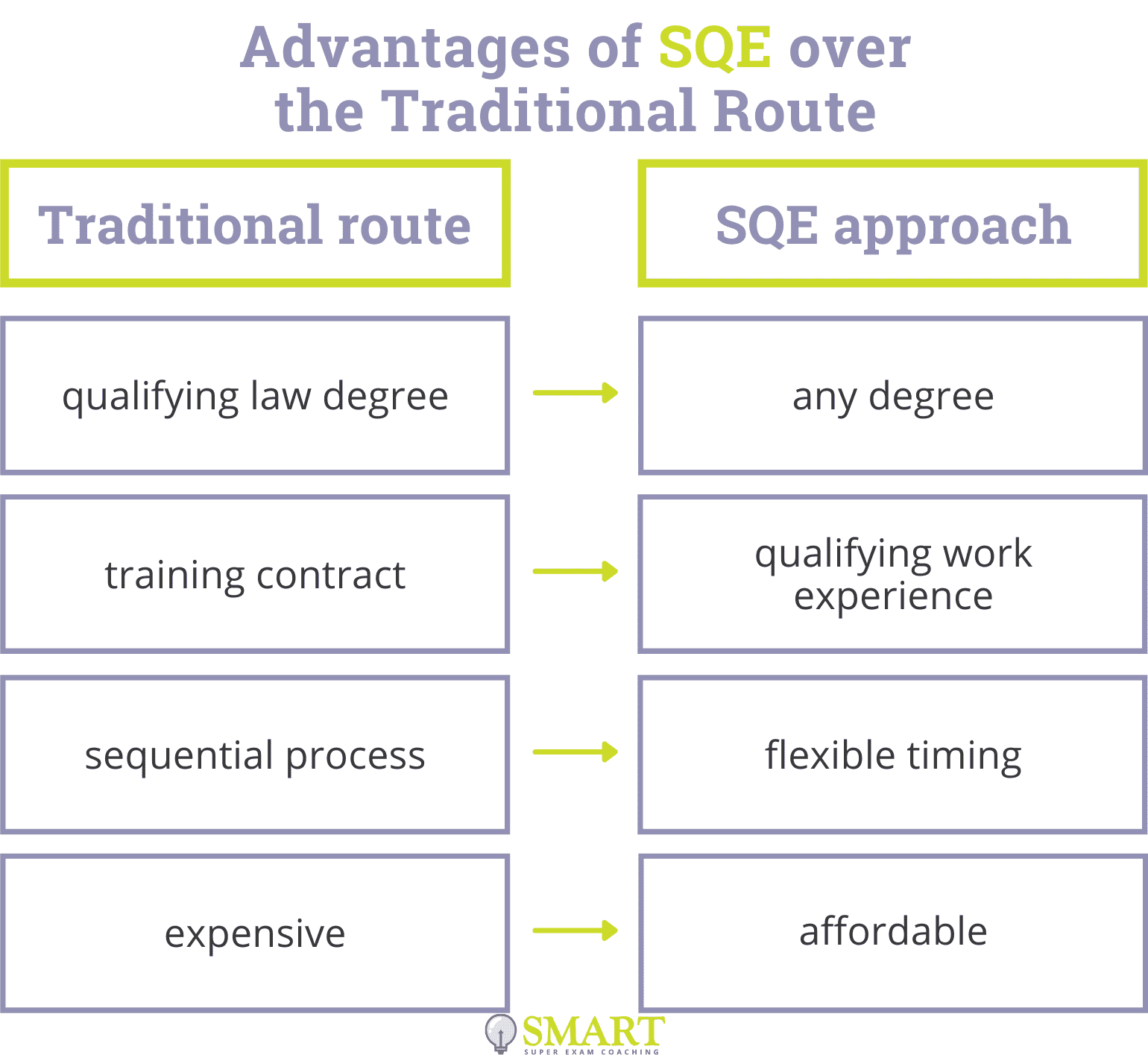 Qualifying law degree → Any degree
Instead of a traditional law degree, which was only approved by the SRA for UK universities and a very limited number of international universities, SQE candidates now just need a degree in any subject. This means that studying law in the UK as a foreign student is no longer necessary, and even law degrees in other countries which would not have previously been considered as qualifying law degrees by the SRA can now be counted towards fulfilling the SQE requirements.
For current international students pursuing a domestic law degree, it is therefore possible to study the law of England and Wales simultaneously with their local law studies. In countries with common law legal systems, the roots of which are based in English law, pursuing the SQE can even offer students a deeper understanding of their own domestic legal system.
Training contract → Qualifying work experience
The SRA has replaced the training contract requirement with two years of qualifying work experience (QWE), which can be completed in a variety of legal roles in up to four different organisations. This requirement is now much easier to achieve than a formal two-year training contract. QWE can even be performed in your home country (as long as it is signed off by a compliance officer for legal practice (COLP) or a qualified solicitor of England and Wales).
Foreign students could also come to the UK for an apprenticeship in a British law firm to learn directly from qualified solicitors and perhaps even forge friendships and connections that will provide further professional opportunities down the line.
Sequential process → Flexible timing
The timing of when candidates can sit the two SQE stages is much more flexible than the previous qualification route:
You don't even need to have completed your degree before sitting SQE1, and you can also complete the assessments simultaneously with the qualifying work experience. After passing SQE1, the SQE2 assessments can be completed at any time within a six-year period, in up to three attempts.
Expensive → Affordable
The SQE is much more affordable and accessible to a wider range of candidates, with no formal academic course being required to take the SQE (other than a base degree in any subject). Some training, such as that provided by us through our dedicated Superexam platform, is still highly recommended to maximise your chances of passing these challenging assessments, but the total costs of training plus the SQE exam fees are much lower than the traditional LPC route.
In this innovative reform, the SRA has adopted a pragmatic, forward-looking approach to the legal profession. Its focus on a standardised assessment approach ensures that everyone who qualifies meets a minimum standard of knowledge and skills, which in turn benefits the future performance of each solicitor and the improvement of the profession as a whole.
SQE vs New York Bar Exam
Under the traditional route to qualification, due to the difficulties in obtaining training contracts, many aspiring solicitors from England or Wales opted to complete their qualification in New York, arguably the largest legal hub in the world. However, now that the SQE route has eliminated the need for formal training contracts, qualifying as a solicitor of England and Wales has greater benefits than qualifying through the New York bar exam:
PRICE: Most candidates need to pass the LLM (US) before sitting the New York bar exam; no Master's course is required for the SQE, making this a cheaper and more accessible option.
SKILLS: The SQE is much more heavily focused on practical skills such as client interviewing and advocacy than the New York bar exam. Honing and harnessing these important skills through the SQE is hugely beneficial for solicitors in their future practice.
KNOWLEDGE: As many jurisdictions operate with a common law system (or mixed with civil law), which is based on English law, the skills and knowledge needed to qualify in England and Wales are much more transferable than the New York bar qualification, which is only recognised in New York.

How difficult is it to sit and pass the SQE for international students?
The SQE can be an ideal option for foreign students wishing to qualify in a regime that is more flexible, accessible, and offers greater professional opportunities than their domestic system. While passing these assessments will be a significant challenge, there are resources available to support learning and skill development.
SQE stage 1
SQE1 consists of multiple-choice questions testing the candidate's functioning legal knowledge. International students studying law in common law countries may have a slight advantage as their own legal system is likely to be heavily based upon English law – however: there are differences in each jurisdiction, so it is important to have a full understanding of each distinct system and not to mix them up!
The Oxford University Press (OUP) has developed a set of "SQE Prep & Practise" products (£450) which include guidance on the law, exam techniques, and a comprehensive bank of sample questions designed to mirror the format of the actual SQE1 questions. These packages are an ideal resource to help candidates prepare for this stage of the SQE. The convenient online format means that students from as far afield as, say, Singapore or Hong Kong can self-study for SQE1 by reading and practicing with the OUP tool alongside their domestic studies for a one-off fee of £450. There are also a range of online courses available for students seeking further guidance.
SQE stage 2
SQE2 consists of practical written and oral assessments testing skills such as client interviewing, advocacy, case and matter analysis, legal research, drafting, and writing. While it may be possible to attempt these assessments with the legal knowledge you learned to pass SQE1, further training and development of these skills will greatly increase your chances of passing this difficult stage of the SQE, and will also ultimately help you become a better lawyer.
It is possible to develop these skills through practical work experience such as your QWE, but we strongly recommend dedicated training that is designed around the specific requirements and marking criteria of the SQE2 modules.
Our Superexam platform
We have designed a unique platform to support candidates in their goal to pass SQE2 and qualify as solicitors of England and Wales. Our content and methods are based on our years of experience providing training for the Qualified Lawyers Transfer Scheme (QLTS) OSCE assessments for foreign-qualified lawyers, which the Solicitor Qualifying Exam is based upon.
Our past students have told us that our training helped them significantly, not just in passing the assessments, but even in improving their existing practice due to the development and application of these universal skills.
The best way to develop skills and root knowledge into long-term memory is through active participation and practice through practical mock stations. We offer mocks for every SQE2 assessment which are assessed by qualified solicitors and expert tutors with personalised feedback to help candidates build up these important skills. Our Superexam platform is flexible and affordable, offering the option to choose any number and type of mock sessions to suit your individual needs and budget, along with video lectures and training materials.
We are dedicated to supporting SQE candidates and aspiring solicitors on their journey, so do not hesitate to reach out to us for further information or guidance.