What Is Miller Pyramid?
The original pyramid was designed by the American psychologist George Miller in 1990 as a framework for assessing doctors' clinical competence.
This framework distinguishes between knowledge at the lower levels and action at the highest level. Thus, the lowest level of the pyramid represents knowledge (knows), which at higher levels is followed by competence (knows how), performance (shows how), and finally action (does).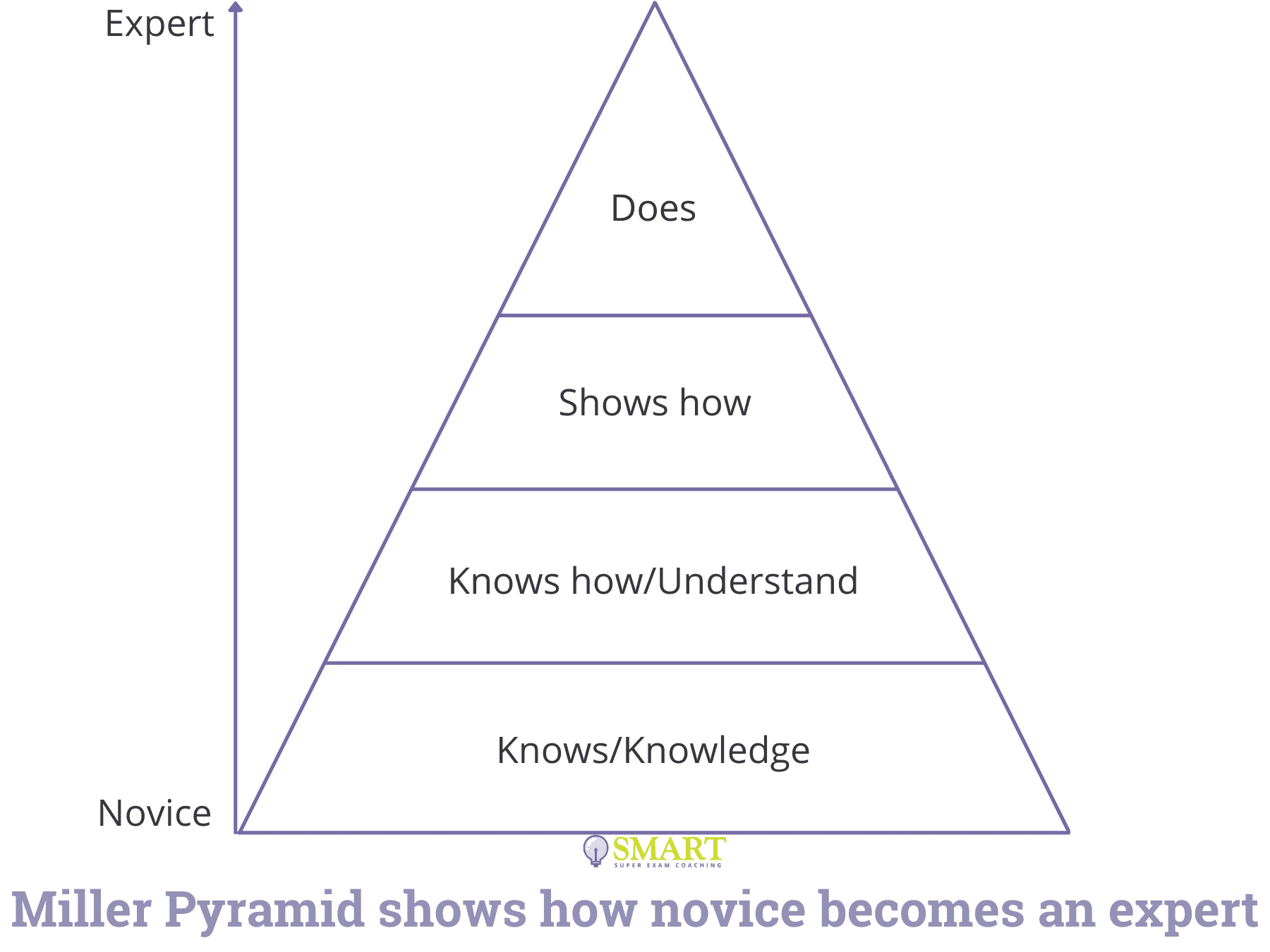 The Solicitors Regulation Authority (SRA) characterises SQE as the test of functioning legal knowledge. In Miller's terms, the super exam seeks to assess not only knowledge, but also skills.
Therefore, the adoption of the Miller Pyramid for assessing solicitors' competence presupposes using two groups of assessment methods. To target the lower levels of the pyramid, it is natural to apply such common methods as multiple choice questions, while simulation tests like objective structured clinical examinations are appropriate for targeting the pyramid's higher levels.
Based on the approach above, the super exam (SQE) assessment – one of the UK law bar exams – is designed to have 2 stages:
SQE 1
SQE 2
SQE 1 is going to assess knowledge and be centred around computer-based assessment, with single-best-answer questions. On the other hand, SQE 2 will use simulations to test core skills and competencies for any solicitor: an ability to write, to persuade, to develop discursive arguments.
According to the SRA, the Solicitors Qualifying Examination as a single national licensing examination for all intending solicitors of England and Wales, is going to be launched in autumn 2021. The major advantage of the new super-exam is its potential to set consistently high standards at point of admission, and to support flexible routes to qualification. Instead of regulating the process of admission and specifying particular pathways leading to it, the SRA will now shift to regulating standards.
As announced by the Solicitors Regulation Authority on 1 August 2018 and substantiated on 5 September 2018 at the SQE roundtable event attended by OSCEsmart, Kaplan was appointed the SQE assessment organisation.